While I was on vacation, doing some fishing and sailing, (Our good friends have a boat in the Bahamas and they invite us to join them on occasion....it's good to have friends with boats in the Bahamas...) reading Ray's wonderful, new(er) book "
The Big Debt Crisis
", it just so happened that the Financial Stability Board (FSB) published their frightening, yet riveting, can't put it down,
Global
Monitoring Report on Non-Bank Financial Intermediation
,
which, as you also know, I've been following for years.
So, in order to kill three canaries with one coal mine, I thought I'd combine my take on the two tomes, 1.) Ray's "how we got here" historical perspective on the next "Big Debt Crisis", combined with and followed by 2.) A more current update vis-a-vi the FSB's data/findings in anticipation of the next "Big Debt Crisis" and finally, 3.) A "What the heck is going to happen next in the virtually guaranteed, next, upcoming "Big Debt Crisis?" and exactly how it's going to go down. (Spoiler Alert: the Chinese Communist Party might be referred to as "Individual #1" in the scenario.) Of course I'll try to fold-in some fun pop-culture and awesome financial gallows humor when I can. Remember, the stated goal of my work and tag line is, and has always been:
Let's Make Global Financial Armageddon Fun Again!
....did I mention that today we're going to talk about the next "Big Debt Crisis"?
As always, I've read these hundreds of pages and distilled them for you in a few bullet points... so that you don't have to.....that's the value I try to bring to the table. Further, as in past posts, if you are a dry, lifeless, economist and/or financier who doesn't have the time, or feel like trudging through my colloquial, comedic quips, clips, wit and wisdom, feel free to just check out the charts & graphs and skip through to the TEXT IN RED....that's where I'll highlight the really important conclusions, financial metrics and analysis of same.
But first, to set the cheery, optimistic mood, I've included a few vacation pictures below....some of the advertising and public relations people I know have mentioned that I should make an effort to identify with the masses (you, my dear readers) and show them (you) I am actually a loving, caring "human being" rather than a cold, heartless, game-theory-automaton economist. Moreover, some of my readers have mentioned that my take(s) on the upcoming, apocryphal, global financial Armageddon can be a bit of a downer.....so here you go.....
Ok....Got it? Pretty isn't it? Heaven on Earth....Feel better? Now back to work. Strap yourselves in.....this is going to be a doozy...
Ray Dalio's "Big Debt Crisis"
One of the best, most instructive, valuable books I've ever read....period....exclamation point! Of course I have to acknowledge that everyone's taste and interest in fine financial/economic literature is personal and unique, but this bad boy really was a page turner. The searchable pdf version is a bit long at 471 pages (with citations and references that might actually consume a lifetime of financial research should you choose to explore them), but it's so entertaining I had finished it before I knew it....Like any great author, Ray left me wanting more. I'm looking forward to the sequel. I bought the hard copy as well....I figured Ray could use another $50.00.
The book is a three volume set describing/analyzing Monetary Policy throughout history and the correct, efficient, adequate, (or abysmal) use of same. The first volume is actually the "summary" of the "Archetypal Debt Crisis", indicating that throughout history these F%#&ing things actually happen quite often. Everyone with any interest in economics and finance should, at a minimum, read this first volume. It summarizes the findings and similarities of the last 48 "big" debt crises as described in Volume 2 & 3. Ray chose to deploy his sizable Bridgewater resources, some of the brightest economic and financial minds on the planet and had them research debt crises throughout history in search of common ground/data. His stated goal, is to provide a framework for policy makers and investors to properly understand and deal with the next, inevitable, debt crisis.

Volume I

Perhaps Jay Powell read the book, saw something (we'll get to that later when we talk about the FSB Report) and pulled the "pivot"?....here's the text from his recent statement....
"industrial production and factory employment remain at all-time highs through April, measures of construction had rebounded sharply after falling in the first quarter".
Geezz.....I'm sorry, I've gotta get my notes in order....the above was actually from the Federal Reserve Bulletin issued in June of 1929. Where was I, Oh yeah.....here's the text of Jay's interview on MSNBC, at least as best as I can remember.....it went something like....
"Hey guys ...the economy is fine....everything is rosy....nothing to see here...we're going to continue our mechanical, predictable, rock-solid march toward interest rate and balance sheet normalization......(pause....leafing through pages of the Financial Stability Board (FSB) Report...shuffle ....shuffle).....OH CRAP!......never mind what I just said.....but we're going to stop raising rates and are actually considering cutting them now..... and that balance sheet normalization thing ain't happenin' anytime soon... thanks for having me on today.....Sorry for the pump fake.....really, everything is just fine and dandy......Oh man look at the time....gotta go.....oh....and I like beer...."
Of course the FED Analysts/Pundits cleaned up the language a bit for the news clips....
Anyway, back to work.....in the first volume, here's what Ray says:
"From my examination of these cases, the biggest risks are not from the debts themselves but from a) the failure of policy makers to do the right things, due to a lack of knowledge and/or lack of authority, and b) the political consequences of making adjustments that hurt some people in the process of helping others. It is from a desire to help reduce these risks that I have written this study."
The Next significant point(s) Ray makes are
(My emphasis added)
:
1)

When debts are denominated in foreign currencies (USA)

rather than one's own currency

(China)

,

it is much harder for a country's policy makers to do the sorts of things that spread out the debt problems, and 2) the fact that debt crises can be well-managed does not mean that they are not extremely costly to some people.

(Lost Jobs, Bankruptcies, Jumping out Windows, Alcoholism, Drug addiction, Homelessness, etc. things you and I, the "little people" have to work through.)
He also describes how there are two types of "Depressions":
Deflationary Depressions - Debt restructuring and austerity dominate, without being balanced by adequate stimulation (especially money printing and currency depreciation).
Deflationary depressions typically occur in countries where most of the unsustainable debt was financed domestically in local currency
, so that the eventual debt bust produces forced selling and defaults, but not a currency or a balance of payments problem.
(i.e. The "Great Depression" 1929 and
China 2019 - ?
)
I
nflationary Depressions -
C
lassically occur in countries that are reliant on foreign capital flows and so have built up a significant amount of debt denominated in foreign currency that can't be monetized (i.e., bought by money printed by the central bank). When those foreign capital flows slow, credit creation turns into credit contraction. In an inflationary deleveraging, capital withdrawal dries up lending and liquidity at the same time that currency declines produce inflation.
Inflationary depressions in which a lot of debt is denominated in foreign currency are especially difficult to manage because policy makers' abilities to spread out the pain are more limited.
(i.e. the Weimar Republic 1920-1924 and the
USA 2019 - ?
)
Ray further points out that Debt Cycles are historically broken down into six "parts".
1.) Early Part
2.) Bubble
3.) Top
4.) Depression
5.) Beautiful (or "not so Beautiful" depending on policy) Deleveraging
6.) Normalization (or...Pushing on a string)
He goes on to describe and chart how, in aggregate, various indicators/indexes (Equity Prices, Yield Curves, Interest Rates, Money Supply, Capital Flows, Inflation, etc.) have moved and reacted throughout the cycle(s) as well as what the cycle duration(s) might reasonably be expected to be.
Here's an example of the format:
We note that these cycles last roughly 11 years (give or take...60 months to the "top" and another 84 months to a loosely defined normalization...i.e.) Minimal "window jumping".)
Ray further describes the tools available to policy makers (pg 36) ranked by effectiveness. These are obvious, but there's some heft behind these if you choose to refer to the book. For the sake of this discussion I'll be brief.
Monetary Policy #1 - Cut Interest rates. Most effective, but unavailable and obviously less effective as rates approach 0%.
Monetary Policy #2 - Central Bank Buying Assets - Effective, but QE primarily benefits investors/savers (i.e., those who own financial assets) much more than people who don't, thus widening the wealth gap. The impact to economic activity/growth is limited. The money isn't "spent".
Monetary Policy #3 - Print Money putting more directly into the hands of spenders instead of investors/savers and incentivize them to spend it. This is (all sorts of variations of) "Helicopter Money"....some of these include: Debt-financed fiscal spending, Public Works Projects, Debt Write-downs/offs, "Cash for Clunkers", Home Buyer Credits, etc. Universal Basic Income (UBI) or anything to get people spending money, creating jobs and get the economy moving again.
Continuing in Volume I, there are a number of important observations/guidelines directed primarily toward policy makers generally presented in a subtle format similar to "if this happens, consider this....not that" that differentiate whether a de-leveraging is "well managed" or "poorly managed".

From what I could tell, and I was looking for it when I read the book, Ray never actually comes out and explicitly says we're currently at the "top" of a debt cycle.....but based on the character of the current data and the timeline, I think I'd find it hard to argue that we've not topped out. Even if we're not yet at the top, again based on the data, it can't be far off.


Volume II
I found Volume II to be the "meat" of the book. I really enjoyed the layout. The section is a wonderful study of policy issues and challenges of the three greatest Debt Cycle Bubbles in history. The discussion of the German Debt Crisis and Hyperinflation (1918-1924) was followed by that of the US Debt Crisis and Adjustment (1928-1937) and finally an analysis of the US Debt Crisis (2007-2011). I particularly enjoyed the way the narrative, stats, commentary and policy explanations flowed through the "center" of the pages with newspaper headlines, quotes from politicians and relevant citations in the margins of the pages. I'm not going to recap the details here because Ray does such a great job, I couldn't do it comparative justice. If you are a serious student of finance, economics and/or political history, you'll thoroughly enjoy this section. I'm hopeful you'll read it with the enthusiasm and vigor I did..
Since Ray didn't include many photos, even though I've always images tell a story tell the story pretty well, I've attached a few of my favorite images that might have been included in the section below, just to compliment his work...
Volume III
Volume III is a compendium of the data derived from the Forty Eight (48) Debt Crises studied. This section provides the core (summary) data which was used to develop the "archetypal template" discussed in section one. To be frank, and to confess my ignorance, being a Midwestern American, generally isolated from global mishaps, I had not even known about most of these "crises" since they didn't seem to effect me, nor was I familiar with the hardship and sadness that must have been endured by the folks around the globe as they made their way through all of them. As a prototypical American, I was, of course, naively brought up to believe that it's always been "all about us". My memory could be foggy, but I don't believe I'd even heard the term "monetary policy" until I'd been enrolled in the University Wisconsin Business School for a few years. On the other hand, I was taught to "hide under my desk" to protect myself from a nuclear blast in second grade. Apparently, according to the school system, rural Wisconsin was a strategic ICBM target at the time. As an eight year old sitting under my desk, after Mrs. Mc Neil passed around ominous, frightening pictures of mushroom clouds and their destructive aftermath, I remember thinking "sitting under my desk isn't going to help....this is really stupid". I guess misguided educational/curriculum bias has been around for a while and continues today. Anyway, these debt "cycles" are apparently a very regular, predictable thing....someone's always "in one", sitting under their desk, somewhere ....who knew?
As I was reading through the few pages dedicated to each of these crises, I quickly found myself analyzing them and contemplating them in the context of Ray's archetypal template, as described in Volume I. I was often thinking "Hey, this one is a lot like the Wiemar Republic, just not as bad, with a communist twist" or "Oh man...this one was just like the US Great Depression....why are they tightening??!!"
Anyway, there's far too much here and much of it is beyond the scope of this post, but I'd encourage you to read/scan through Volume III if you have the time, at least just to get the idea. It's a brilliant, worthwhile read. Here's the Table of Contents for review, and perhaps to pique your curiosity.
What Ray's Book Isn't:
Finally, one of the most interesting things about the book is that throughout its 471 pages Ray references the word "China" a grand total of twenty eight (28) times. Twenty seven (27) of these occurred within a brief discussion of the Chinese role and their 2008/2009 participation/funding of the American "Great Recession" which I'll also refer to later on in this post, with a discussion of Hank Paulson's frequent trips to Beijing aptly described in the prologue of Richard McGregor's wonderful work "The Party"....but I digress. The other lone reference to "China" benignly pertained to the 2015 Chinese Stock Market crash, when comparing indicators present in past bubbles as a validation of the data. Again, Ray does not take even one page to discuss the decade long, greatest money printing, debt build up in history, currently happening on mainland China. I find that remarkable.
As many of you know, my background is in the insurance business. I own a wonderful insurance agency where I spend my day advising people on insurance coverage for their homes, cars, small businesses and the "stuff" that most of us would hate to be without if something horrible happened. Occasionally, because we put insurance policies in place to protect these folks, a few times a year, because of a house fire, a horrific traffic accident, a tornado, lawsuit, etc. I find myself trying to help someone through what just might be the 2nd worst day of their life. (By definition, I'd guess, the last day of your life is probably the worst one.)
Anyway, the "Big Debt Crisis" is strictly an economic and policy analysis of the statistics that comprise what are probably some of the "worst days" of many peoples' lives. Ray, as you'd expect, is relatively clinical in his discussion of how Monetary Policy and debt cycles impact people in terrible, often irreparable ways. Here's an example of a quote from page 61 in a discussion of "War Economies":
"....the debts and the outcome of the war (whether it is won or lost) will be enormous. The worst thing a country, hence a country's leader, could ever do is get into a lot of debt and lose a war because there is nothing more devastating. ABOVE ALL ELSE, DON'T DO THAT"
Again, Ray is focusing on the economics of these cycles, policies and their financial impact. Even though, in World War II for example, roughly 80 million people were killed, an untold number were injured and traumatized, families destroyed, their homes, towns and entire cities were obliterated, and tens of millions became refugees, the
Big Debt Crisis
refrains from any detailed discussion of the human suffering associated with these "policy" decisions. I'd humbly suggest that a failure to win the war and properly finance it, running up big debts in the process, might be far from "the worst thing" (I'm thinking, the Holocaust, or "lobbing nukes at each other" for example) a leader could do.
Another quote relating to war economies, which is absolutely accurate from a decision tree perspective, but again, in my mind, falls a bit short on the "appreciation of human suffering" scale, again on page 61 is:
History has shown that through time, there are two broad types of relationships, and that what occurs depends on which type of relationship exists. The two types of relationships are:
a) Cooperative-competitive relationships in which the parties take into consideration what's really important to the other and try to give it to them in exchange for what they most want. In this type of win-win relationship, there are often tough negotiations that are done with respect and consideration, like two friendly merchants in a bazaar or two friendly teams on the field.
b) Mutually threatening relationships in which the parties think about how they can harm the other and exchange painful acts in the hope of forcing the other into a position of fear so that they will give in. In this type of lose-lose relationship, they interact through "war" rather than through "negotiation."
Either side can force the second path (threatening war, lose-lose) onto the other side, but it takes both sides to go down the cooperative, win-win path. Both sides will inevitably follow the same approach.
In the back of the minds of all parties, regardless of which path they choose, should be their relative powers. In the first case, each party should realize what the other could force on them and appreciate the quality of the exchange without getting too pushy, while in the second case, the parties should realize that power will be defined by the relative abilities of the parties to endure pain as much as their relative abilities to inflict it.
When it isn't clear exactly how much power either side has to reward and punish the other side because there are many untested ways, the first path is the safer way. On the other hand, the second way will certainly make clear—through the hell of war—which party is dominant and which one will have to be submissive. That is why, after wars, there are typically extended periods of peace with the dominant country setting the rules and other countries following them for the time it takes for the cycle to happen all over again.
Ray's clinical analysis, of this complex, point of no return, "go to war or not" decision tree, with so many unknown variables, where US Citizens "vote" (are less willing to endure pain) and Chinese citizens are "arrested" (all too familiar with having pain imposed upon them) caused me to recollect this relatively recent presidential quote as reported by the
Washington Post.
....
He said in a series of interviews that he does not need to read extensively because he reaches the right decisions "with very little knowledge other than the knowledge I [already] had, plus the words 'common sense,' because I have a lot of common sense and I have a lot of business ability."
.....my immediate thought was......"Uh-oh"....
Ray also refers to the 2008/2009 US Financial Crisis as an example of a "Beautiful" deleveraging, where the FED and Central Bankers (generally) made the best policy decisions they could have possibly made, at least under the circumstances. He refers to the policy responses at that time as a template for what should be done in the event something like this (God help us) ever happens again. As I recall, during the Financial Crisis, roughly 10 million Americans lost their jobs, 8 million people lost their homes and 2.5 million businesses closed. Many folks lost their life savings and their financial future and prospects changed dramatically for the worse. The life and future they thought they had was gone in the blink of an eye. What I'm saying is that I guess the term "Beautiful" is relative.....beautiful compared to World War II or a nuclear winter perhaps, but far from "beautiful" for those who were irreparably harmed by the (latest) financial crisis.
Finally, as I mentioned, the book makes no "going forward" mention of the current global Financial Asset and debt build up and what might or should be done from a policy standpoint, to mitigate the impact of what appears to be the next "inevitable" debt cycle/crisis. I found that omission to be remarkable as well.
I think American policy makers could use, and might appreciate a little help and guidance here. I eagerly await Ray's sequel.
The Financial Stability Board Report
As I've mentioned above, I've been following the Financial Stability Board's work for years. It's outstanding and desperately needed in the globalized financial world we live in today.
Here' the link to the pdf.
http://www.fsb.org/wp-content/uploads/P040219.pdf
Like Ray's book, there's a lot of great, interesting information that jumped off the page at me. I'd invite you to read it if you can spare the time. For the purpose of this post I'll just just focus on a couple of, what I consider, really important things.
Non-Bank Financial Assets
Pg 5 - The narrow measure of NBFI grew by 8.5%, to $51.6 trillion in 2017.....Since 2011, the Cayman Islands, China, Ireland and Luxembourg have together accounted for over two-thirds of the narrow measure's dollar value increase.
Assets held by "Non-Bank Financial Institutions" (NBFIs) are now 14% of all Global Financial Assets. NBFI Assets are, by definition, assets held by entities that are not Banks (no government protections or direct access to central bank liquidity) and subject to "runs". NBFIs are businesses like Broker Dealers, Investment Funds, Hedge Funds, Insurance Companies and Private Investment vehicles that typically maintain relationships with banks. Also by definition, individually, these US$51.6 Trillion NBFI assets are (generally) not systemically important and could be "allowed to fail".
When we look at the data we also see that Tax Haven money has been expanding at an extraordinary pace. The graphic below (page 14) of the Report illustrates the tremendous concentration of Tax Haven Money (in relation to GDP). When we examine the left hand graphic on Exhibit 2-3 we see that the concentration in (KY) The Caymans, (LU) Luxembourg, (IE) Ireland, (HK) Hong Kong, (CH) Switzerland and (SG) Singapore is primarily comprised of "Other Financial Intermediaries" is many multiples of the respective domicile GDP. For Example, the roughly US$8 Trillion of Caymans Financial Assets represents 186,128 x GDP. i.e.) These Tax Haven jurisdictions hold significant levels of Financial Assets that are subject to "runs" and have little/no relationship to their domiciles' domestic GDP. The first "Real" economy that shows up on the list is the Great Britain (UK) debuting at #6 with financial assets hovering at 1,200% of GDP. Japan (JP) comes in at #9, at about 700% of GDP. As you would suspect, and I've said often, these Tax Haven jurisdictions are increasingly important as anonymous, liquid, global hiding spots for "someone else's money".
Now let's take a look at an updated version of the graphic I had originally produced for a post I had done a couple of months ago,
Twas the Night Before Christmas....
updated using the 2017 data-set in the newly issued FSB report. The graphic below is intended to illustrate the incredible expansion of Chinese,
Tax Haven
and "
Other
" money around the world since the Financial Crisis. Simply put, we see that the lion's share of the incredible US$123 Trillion monetary expansion that took place since 2008 took place almost entirely in what I refer to as "Fake Money" jurisdictions, i.e.) China,
Tax Havens
and "
Other
" (Primarily Emerging or "Troubled" Markets). "Old Money" domiciled (US, Germany, France, Great Britain and Japan) Financial Assets have grown at a much slower pace, with German/French/British Assets actually declining, despite a decade of ECB ZIRP. I could also argue that a significant portion of the growth (US$28.9 Trillion) and appreciation in US Domiciled Financial Assets is also attributable a significant infusion of Chinese/Global Capital, investing in the "safest/smallest mine in the field" (i.e. should I invest in US Treasuries's or Kazakhstan Crypto today?) but we'll get to that later in the post.
Of course, when we're analyzing Chinese Financial data we have to be skeptical, primarily because it's usually badly translated and very complex by design, but secondly, because it's almost always total, unadulterated bullshit. When I do my analysis I like to revert to a little game my kids taught me when they were growing up. They called it "one of these things is not like the other".
Oddly enough, the data for the FSB report and China's Financial Stability Report (FSR) are both provided by the PBOC, yet the FSB reports 2017 Chinese Financial Assets at US$56.7 Trillion and the PBOC Financial Stability Report (page 62) Reports total Financial Assets at us $85.3 Trillion (Adding Bank and "Shadow Bank" Assets together at the then current Exchange Rate). Financial Assets are a "good thing" right? China is HUGE!!....correct? This must be some kind of weird US$30 Trillion rounding error?
Here's a link to my analysis and the PBOC FSR.
https://deep-throat-ipo.blogspot.com/2019/01/keeping-it-simple-short-and-to-pointand.html
2018 Financial Stability Report

(page 62)
Taking it a step further, here's what the breakdown looks like if we plug the PBOC Financial Asset figures into the previous chart.
We find, from the above, that:
Chinese, Tax Haven and "Other" (Primarily Emerging Market or "Troubled Economy" Assets) now comprise more than half of all global assets. (US$211 Trillion) up from about one third of total Financial Assets (US$90 Trillion) prior to the Financial Crisis.
Financial Assets have increased from 4x Global GDP in 2008 to 5x GDP in 2017.

From 2008 to 2017 the world has "created" US$151 Trillion "new" Financial Assets in exchange for an additional US$17 Trillion of GDP, or US$9 of Assets for every dollar of GDP. (As a side note, much of China's unproductive GDP is wasting away in vacant residential housing. If we apply a "productive GDP" factor the figure is probably about US$12 of Assets for ever dollar of PGDP )

We must keep in mind that the data is more than a year old. It's unlikely that a decade long trend has suddenly reversed, so we can assume that the Asset values are much higher (i.e. the problem is much worse) today.
Going back to "The Big Debt Crisis", Ray's analysis dissected and identified the impact that each set of policy choices had on each individual economy. In his numbers, the amount of internal and external debts and the impact policy adjustments had on the respective country's financial system were always identifiable and quantifiable. Off-Shore, Tax Haven Financial Assets, at the current level are a relatively new phenomenon and a decade ago (with the exception of Switzerland and Hong Kong), were a fraction of what they are today.
Where is all of this new "fake" money coming from and why is it there?
The simple, logical, Occam's Razor-esque answer is that a significant chunk of these anonymous, Off-Shore Assets are actually controlled by the Chinese Communist Party. There is no other rational, logical explanation for it.
The chart below describes the impossible relationship between the USD/RMB exchange rate in relation to US and China money supply growth. While the Chinese money supply skyrocketed in relation to the US Money Supply, the exchange rate remained rock solid. In economic terms this should be an impossible condition. When the relative "supply" of a commodity (RMB) increases, the price of that commodity (exchange rate) should fall and the currency (RMB) should weaken. Again, this hasn't happened....not at all.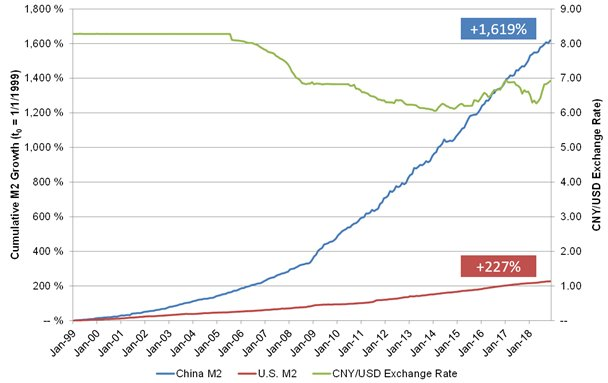 How has the CCP been able to accomplish this FOREX prestidigitation? After running decades of capital/current account surpluses, resulting from the CCP's meteoric rise as the slave/child labor funded "factory to the world" they controlled the exchange rate by keeping their currency (RMB) off the world stage. There's comparatively little RMB used in international trade (<2%) of all settlements are in RMB (nobody wants RMB because they can't spend it anywhere) and the total RMB held offshore has actually been falling even though the Chinese money supply has been skyrocketing. Offshore (internationally usable) RMB is probably less than 0.5% of total RMB in circulation now.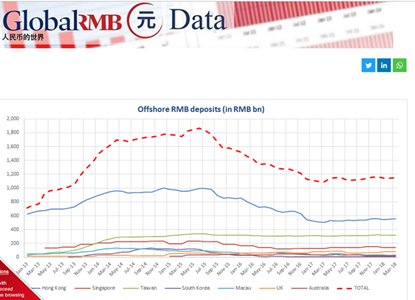 This protection and overvaluation of the RMB, enabled by a continually increasing balance of payments surplus, is the cornerstone of China's master plan. The CCP has no/little external funding requirement or debt.
Remember Ray's discussion of "Deflationary Depressions"?
Deflationary Depressions - Debt restructuring and austerity dominate, without being balanced by adequate stimulation (especially money printing and currency depreciation).
Deflationary depressions typically occur in countries where most of the unsustainable debt was financed domestically in local currency
, so that the eventual debt bust produces forced selling and defaults, but not a currency or a balance of payments problem.
(i.e. The "Great Depression" 1929 and China 2019 - ?)
Today, the CCP has been able to avoid a depression because they've already accomplished the "money printing" part of the stimulation, something that wasn't done by the FED in the "Great Depression" of 1929. In other words, they are "printing" in advance of the Depression in order to avoid it altogether.
They've also been able to avoid an RMB devaluation because, to be blunt, they've not let anybody use it. To date, the world doesn't seem to care all that much about the value of the currency since it can't be used in a meaningful way. The RMB remains locked on-shore in the mainland. Up to this point, the CCP has managed to keep its domestic financial system walled off from the rest of the world. According to Ray's thesis, China's current condition can't possibly result in a currency or balance of payments problem, until, of course they "uncage" their currency.
Luckily, everyone in the world uses the US dollar. It's the currency of choice for every international trade and financial/capital transaction. In God, and America, we trust.
What could possibly go wrong?
Interestingly enough, for the first time in economic history, and since the above described monetary tides are ebbing and flowing across the globe, we actually have a current "control group" test case study brewing, describing in vivid, certain terms, what can happen to a proud, old money economy when "local" capital begins to flee to a better/safer, more preferable place and it's not replaced by, some other source. (i.e. Perhaps in a hypothetical case, somewhere else in the world, anonymous CCP capital might be used to prop up asset values and fund another struggling economy, but this hasn't happened in France.)
Ladies and gentleman, for your pleasure, I present to you.....(drum roll).....
THE REPUBLIC OF FRANCE!
Now, the first question you are probably asking is "What in the world does the French government have against school crossing guards?....and why are there so many of them?....is the French economy really in that big of a mess?" And you'd be correct to ask! There is definitely an oversupply of unemployed, highly pissed-off, school crossing guards running amok on the streets of "Gay Paree" right now.
Of course, I could waste your time and talk about all of the "little" stuff. Housing, labor, credit availability, the short work week, lagging GDP, politics, the rise of populism, the continuing epic struggle between the elite "haves" and the bourgeois "have nots", etc. etc. but unfortunately, there's one and only one reason the French school crossing guards are in the pickle they are in today.
I've been told that nobody wants to hear this (especially the pissed-off school crossing guards). They want to blame Macron, the Brits and the rest of the "crooked" European politicians and anyone else who looks like they have some level of authority/culpability, but the real problem (at least right now) is not politics. The real problem is that years of really bad ECB Monetary policy, with no recognition of what "free market" capital movement can do to an otherwise healthy economy, has irreversibly and finally come home to roost.
Simply put, years ago French wealth began to leave the country for easily accessible tax haven destinations, primarily Luxembourg, the Netherlands and Switzerland, with very little coming back in. (Apparently the Chinese aren't fond of escargot). This is of course, a double headed swinging guillotine.
As domestic money leaves, it both erodes the tax base and stifles the economy. Fleeing capital means no new investment, no new innovation, no new jobs and no new hope. As we've seen, It apparently does indeed lead to scores of pissed off, fire bombing, school crossing guards.
Ironically, this dramatic capital flight took place under Super Mario's Near-ZIRP decade of monetary expansion and unprecedented stimulus. Unfortunately, the stimulus just wasn't going to the French people....it was going to Luxembourg, the Netherlands and Switzerland....some/much of the wealth is still owned by French elite, but invested somewhere else anonymously, perhaps in NYC Condos or US Tech Stocks, at probably more than a few basis points higher than it could have earned at home. Rich people, as we all know, are always willing to sell out their homeland for a few basis points and a tax cut.
Let's refer to and review the figures from the FSB Report, shall we? If you'll notice, the outlier on the previous chart above, the only global region to actually show a decrease in financial assets since the 2008 Financial Crisis is the "Old Money" Great Britain. Germany and France region. Although the decrease isn't much, it's enough by comparison. The above photos are a stark reminder of the political, social and economic impact wrought by money fleeing these domiciles to off-shore tax havens, when there isn't anything replacing it. The more Mario "prints" the faster it leaves.
What we see is that over the last few years capital has been flowing out of France like foie gras through a goose. From 2008 to 2017 Financial Assets in Germany, France and Britain have been reduced from US$69.1 Trillion to US$66.7 Trillion causing corresponding (negative) adjustments to investment, tax base and growth. If I can be bold enough to give some advice to the highly pissed-off-school-crossing-guard gang, although I understand your anger and frustration....your antics are not helping to get this capital flowing back.

Luckily, nothing like this could ever happen in America. Even though they are heavily armed, America's school crossing guards are highly compensated professionals, always in a good mood and the envy of the free world.

God Bless America.....and....
Vive' la France!
Why the CCP Pump & Dump will Eventually Break the Dollar
Deng Xiaoping often referred to "
Tao guang yang hui
" or roughly translated.....
"Hide your brightness, bide your time."
We "invisible hand", "free market Westerners waving the flag of individual rights, freedom of choice, and
government intervention only as a last resort
, collectively, truly don't understand what we're up against here. We Westerners can't conceive of markets without individual choice and independent capital flows.
Let me be clear, the "rise" of China is NOT now, nor has it ever been an "opening up" of ideas, markets and financial freedom. That's not up for debate. That statement is an etched in stone, unchallengeable, unimpeachable fact.
Propping up the RMB in order to artificially increase its purchasing power, acquiring Western Assets on the cheap, is the cornerstone of the master plan.
All of the financial devices, shell companies, subsidiaries, and entities created with newly printed, anonymous Tax Haven money, managed, directed and owned by China's new "entrepreneurs" are the cleverly disguised genesis of a centrally planned, monolithic, financial "death star" under construction, with its primary weapon locked and loaded on the Western Financial System.
Let's pause and let that sink in for a minute....
Ok, deep breath....let's carry on....So how did all of these CCP Controlled Assets accumulate in the Western banking systems? I covered the "Boomerang Greenback" in a prior post entitled "
The New Phone Books are Here!
a while back (feel free to refresh your memory). I've defined "Boomerang Greenbacks" as Western Currency paid for Chinese goods and services where the currency never makes its way back to the Chinese Mainland. It's never exchanged/converted to RMB and hence never used to benefit the Chinese economy. The chart below illustrates "Boomerang Greenbacks" using Apple/Foxconn familiar logos, but the model is virtually the same for every importer of Chinese goods. Whether the goods go to Walmart or Amazon and/or their respective "off the books" storefronts, or Mom & Pop retailers who sell clothes, shoes and "plastic stuff", all the money goes back into the continually recirculating CCP coffers, to be reinvested in Western Financial Assets.
Since it's impossible to determine with any precision (because of our wonderfully constructed global banking system) the exact level of financial assets held or controlled by the CCP, let's throw around some numbers and make some SWAG assumptions based on the above described FSB/PBOC figures.
First, we must assume that the lions share of the global asset growth is the result, either directly or indirectly, of Chinese fake money printing, the exchange rate anomaly and its proliferation around the world. We must assume that the CCP is acting as a highly coordinated team. Again, there is no other explanation for it. No other Central Bank is expanding their money supply anything close to what the Chinese have done.
The FED, ECB, BOJ and BOE are no longer leading the monetary expansion. They are following it.
Next, we can assume that a significant portion of the "Tax Haven Assets" and the "Other" (as well as a significant, unidentifiable amount of US & European Domiciled Assets) are controlled or influenced by the CCP through these offshore devices and Chinese citizens directly/indirectly in a coordinated effort. For fun, let's just guess that the number is roughly 20% of the Tax Haven and "Other" Assets (20% of US$ 58.7T plus $66.7T) or about US$25 Trillion give or take. Further, let's assume that the CCP, because they know a bargain when they see one, also focused on owning non-financial assets (Real Estate) purchased in cash deals (i.e. no Financial Assets involved, just a deed/title transfer) to a Chinese citizen living in America, deploying capital and acting on behalf of the CCP. These are the 35 year old "Crazy Rich Asians" who are given newly "printed" CCP funded bank accounts and told to go to America and buy all those $1 million condos with cash. So let's assume, again just for fun, maybe a few hundred billion dollars globally for real estate. (This figure is probably low as well, but it's chump change for the CCP)
So now we have roughly US$25+ Trillion (probably a low number) Anonymously Invested in Western Assets by the Chinese Communist Party as a result of the West's naive acceptance a fake RMB exchange rate.
Now that the CCP has provided US$25 trillion of funding to US and global markets (demand), bidding up prices for these financial assets, what happens if the CCP starts selling off these US$25 Trillion in assets?...well, currently US M3 (Broad Money) is only US$14.3 Trillion. Like any "Pump & Dump" the CCP is probably going try to be the first one out.
My guess is that if the Chinese start selling, the CCP will decide to leave the proceeds of the sales of equities, real estate, bonds and businesses in "cash and USD equivalents". They would remain flexible. The cash paid to the CCP from the sale of these assets will have to come from Western sellers. There will be a stealth liquidity crunch, depending on where and how they redeploy the cash. It will remain sitting in CCP controlled accounts, essentially removed from the economy, waiting to be invested at the lower/reset asset values.
Some of the things I'd expect the CCP to start doing once

Xi clicks the SELL BUTTON

:
The CCP will probably avoid "clicking the button" until they are absolutely sure they can pull it off. Only the CCP knows how much money they have under control in Western Economies. Western Central Bankers can't possibly have a clue, since we've designed the infrastructure to support anonymity. There's no system in place to identify the origin and real ownership of the funds. I'd guess that the CCP has very talented people in a war room somewhere tracking this project to the dollar. The question they are asking themselves is two fold: 1.) How much do we need to break the dollar and consequently the US/Global economy? 2.) Do we have enough yet? Despite their odd, intentionally misleading statistics, financial statements and press releases, Chinese folks are generally very smart and really good at math.
Once they "click the sell button" there will be no going back. Remember, they had "printed" the money to buy the Western Assets in the first place, their economic basis/cost is relatively small, so paper losses on the Western Assets are irrelevant, since they've not paid much for them in the first place.
I'd imagine that they would try to sell the less liquid assets (Real Estate, businesses, private equity, etc.) first. (HNA's Deutsche Bank stake, Dalian Wanda's AMC, Anbang's Waldorf/Starwood, Tencent's gaming, etc. etc.) We can expect to see real weakness in the NYC, Bay Area, Vancouver, Toronto, Sydney, etc. Real Estate markets as Chinese buyers disappear and Chinese owners start selling. You won't see any Chinese sellers selling to Chinese buyers.
We can expect to see the yield curve fully invert as the CCP parks increasing levels of money in short term Dollar/Euro/Yen cash equivalents. They will, of course, stop buying bonds and keep the money in short/cash equivalents, ready to buy some assets back once the price seems right. Since they are in control of the liquidity, there is a great chance that they will be able to "call the bottom". In any case, "usable liquidity" will start to dry up. When the dust settles, the CCP will buy it all back and own a much greater percentage of Western Assets than when they initially "pushed the sell button"....they will have "sold high and bought low".
In America, we cherish and revere property rights, no matter whose property it is. If an American Banker sees lots of CCP LLC controlled cash sitting on his/her bank's balance sheet, it will simply look like Tier 1 Capital, to be immediately re-deployed and loaned out under the rules of our wonderfully efficient fractional banking system, even though that capital funding the new loans can be "wired out" in the blink of an eye.
As the CCP Capital is redeployed, there will be really confusing dislocations and liquidity issues with Western banks. Generally, the more intimately a bank is involved with the CCP, the more vulnerable it may be. Let's say, just for example, that you're a bank like JP Morgan, which has a longtime, close relationship with Chinese Communist "Investors". Today, JP Morgan has got $350 Billion of Cash & Equivalents on the Balance Sheet, significant for JPM but not so much for the CCP. Suddenly, like a bolt from the heavens, JPM Bankers around the globe start getting a series of seemingly unrelated anonymous requests to transfer hundreds of billions of US Dollars (Coming from anonymous CCP controlled accounts) to Hong Kong, Caymans and Singapore Banks. In America, since we believe in the sanctity of property rights, in this particular case, JPM, with it's "fortress balance sheet" a term I've always chuckled at, for an entity levered at a 13:1 (based on tangible assets), will make the transfers (or not) and immediately flunk every banking safety ratio you can think of.....and looking for an overnight bail-out....yet again. (American voters will LOVE THAT!) The CCP will effectively be able to determine which US Banks live and die by moving money around. I would imagine, in the CCP Financial War Room they've got a list of "high value targets" on the board. The bankers and regulators won't be able to tell who's moving the money or why. All they'll see is that a bunch of off-shore LLC's with "funny" sounding names want their money back.
We'd also expect to see confusion at the FED. It will look like there's plenty of liquidity in the system, popping up here and there, but since it's controlled by the CCP, it won't be "available", or it may be re-deployed in unexpected, nonsensical ways. "Hey....let's mess with Citi today!" These "false signals" will prevent the FED from implementing or understanding proper policy. They'll spend their days putting out fires, effectively handcuffed and won't be able to throw a lifeline to the "real" economy.
As CCP liquidity is removed, with real estate and equity markets collapsing, the economy will follow. Businesses with supply chains dependent on the Chinese "factory to the world" will fail. Apple, Walmart, and most retailers will be mired in operational issues with their respective supply chains disrupted as their source for cheap inventory evaporates. Imagine Walmart and Amazon as well as nearly every publicly held retailer, with half of their current SKUs at double the price. I'm thinking that might put a damper on earnings. US Farmers will keep shipping soybeans to China though....the Chinese people will still need to eat.
The only viable option, Ray's "Monetary Policy #3 - Helicopter Money" will be unavailable, at least for a time, because of the inherent confusion, finger pointing, political differences, debates and delays. By the time a scaled down version is finally implemented the economy will be needlessly, irreparably slowed/harmed.
Stock Markets will continue their fits and starts as money managers continue to "buy the dip" redeploying newly printed money from "loans" mistakenly made based on CCP "collateral". After all, that's what these money managers have been trained to do and it's worked flawlessly (with a few bumps along the way) since 1932. Money will continue to be destroyed as equity prices decline and loans default, the FED will keep printing/replacing it and it will be immediately redeployed back into equities. Investors, convinced that this was just another "mini-bear" market, will jump back in and the money will then be re-destroyed as markets re-collapse. Because of the CCP catalyst, market behavior will resemble the period from 1929 through 1932, when the DJIA dropped nearly 90%, the "buy the dip" financial gurus will be dead wrong, because they won't understand what's really happening. Take a look at the "mini bull" markets described in the chart below (+20%, +30%, +40% and more) embedded in the Bear Market. (Dalio, Big Debt Crisis - pg, 71)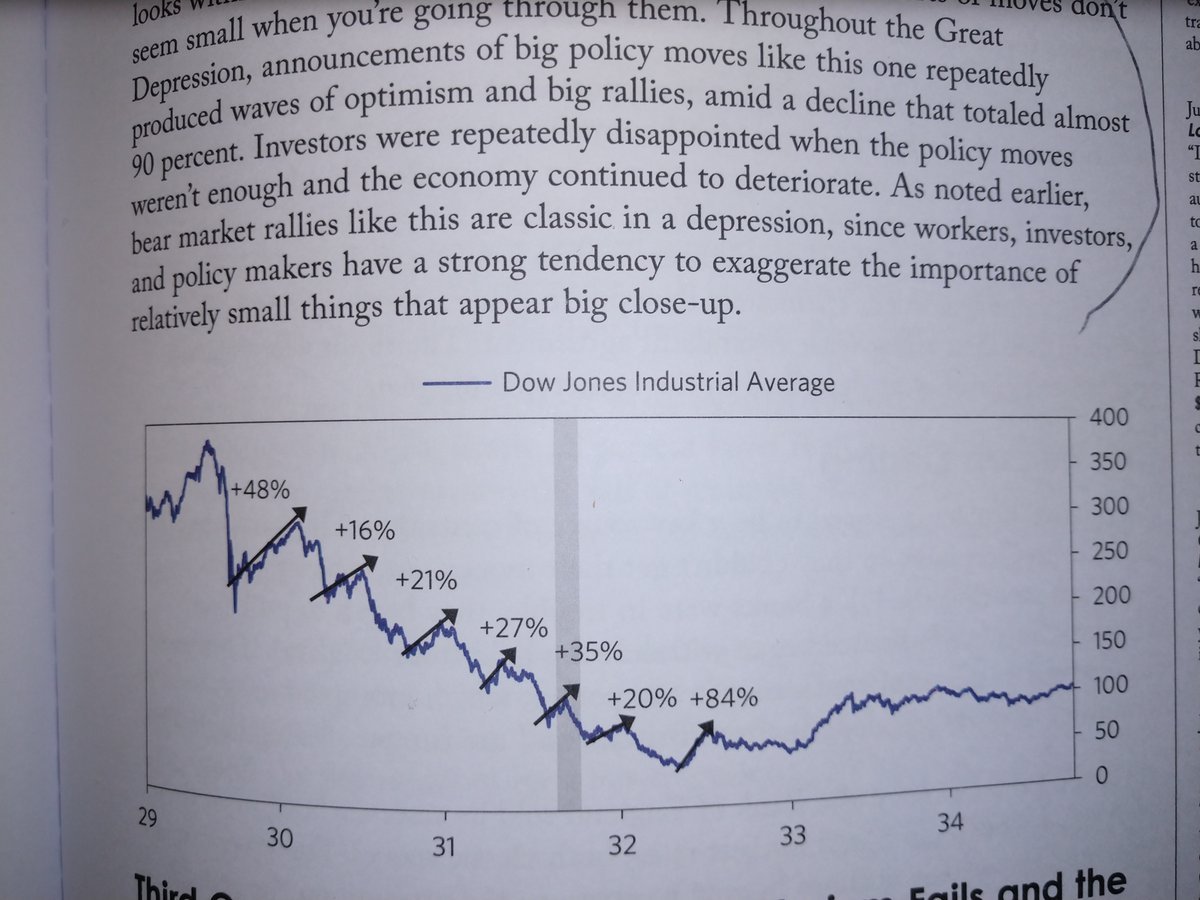 Though painful for our Communist friends, the CCP will be able to accomplish all of these things without destroying their own economy, again because the RMB is currently isolated. Remember the graph of what China's currency looks like today? (I know you remember it from above but I wanted to reemphasize it here) I've long opined that the condition can't exist. Again, I've long said that the RMB should be valued at 20:1 and it will have to devalue. Traders have been crushed on this trade for years.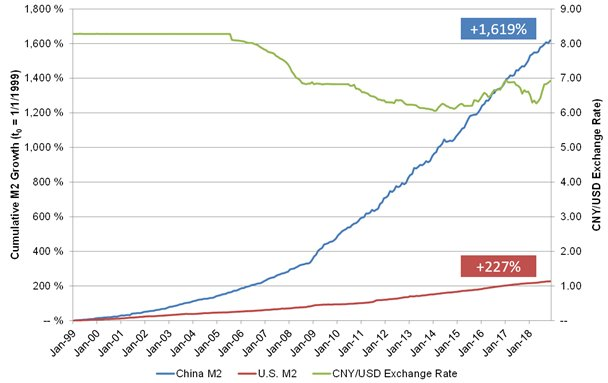 I want to be clear here:
I WAS WRONG!
The RMB isn't going to devalue. That's not what the clever Chinese Communist Bankers are up to. Their diabolically clever plan is to force Western economies to reset asset values through the ultimate "Pump & Dump", requiring the Western Central Bankers to print money like there's no tomorrow. As the Western money supplies increase, the CCP will slowly remove the PBOC SAFE/Currency/Capital controls while (hopefully) keeping everything in balance. Through this carefully constructed mechanism, the RMB won't weaken toward the Western currencies, Western currencies will weaken toward the real, current, intrinsic, economic value of the RMB.
Here's the total guess of a graph of what I think is going to happen once Central Banks around the world are forced to print money and monetize their debts......just as the CCP/PBOC has already done domestically.
As the SAFE controls are relaxed and the RMB begins to work its way into the global financial system, moving toward full convertibility, I'd expect its usage in global settlements to increase and that the off-shore supply would also increase to facilitate the usage.
After a few years, the Dollar will no longer be the world's Reserve Currency. The RMB, through the greatest financial shell game in history, will have replaced it as the primary global settlement vehicle. That's the ultimate end game.
I've been posing this "theory" to very smart people over the last few weeks and their universal, immediate response is:
That can't be possible....Why would the CCP do this?
My answer is: They are doing it because they have to. They have no choice. They have painted themselves into a suffocating debt corner with their incredible domestic monetary expansion. They are pulling the best possible policy rabbit from a hat filled with really bad bunny turds. Unless they cause the Western currencies to devalue they will be caught in Ray's Archetypal "Deflationary Depression" dominated by forced selling and defaults. The "Pump and Dump" is actually the best possible alternative (for the CCP) because it minimizes their domestic pain. Conversely, it's the most painful path for the US and Western Economies. (Remember Ray's "ability to both inflict and endure pain" discussion?)
Financial War Games (in general)
I've always thought (and I'd be surprised if this wasn't happening at least at some level) that, like our CIA, we have a highly skilled team of cracker-jack analysts at the Treasury and the FED that would spend their days conducting simulated Financial War Games, assigning probabilities to events and coming up with pre-determined responses. I'd also presume that the Treasury might launch occasional clandestine (financial) "first-strikes" when the need arose, similar to a financial version of what
Kermit Roosevelt Jr. and the CIA did in Iran
(Also see
All the Shah's Men
- Kinzler - Great read) with limited bloodshed of course. Bankers, economists and accountants are generally a peaceful lot, they just tend to take your money and/or home away when you least expect it.
Generally, I presume in a financial war game exercise, the scenario would go something like:
1.) We see something happening in a part of the world that doesn't align with our interests.
2.) We come up with a financial plan to fix it.
3.) We Deploy Resources (funds, bankers, etc.)
4.) We analyze outcomes and react to unplanned collateral damage.
5.) We reassess and repeat.
Hypothetically, here's a discussion that may or may not have taken place surrounding these hypothetical Financial War Games as they may or may/not pertain to Venezuela.
Treasury Operative #1: "Ok....here's the thing....Maduro isn't playing ball...gotta get him out of there..."


Treasury Operative #2: "Yeah.....I'll get with Larry....he'll loan that Commie dope a ton of money they can't pay back, crash the Economy, the masses revolt, we back the opposition and Maduro leaves with whatever he can take. We get the oil....shit we've got Ciitgo on the ground there already...piece of cake...Regime change brought to you by Blackrock...."
Two years later....
Treasury Operative #1: "What do you mean the Chinese are in? Maduro's not gone? WTF?"

Treasury Operative #2: "Things went sideways....that One-Belt-One-Road bullshit is a pain in the ass....don't worry....I'm on it...this one's easy....it's not like it's France....."
My assumption is that these Financial War Games are going on and these "operations" are being conducted all over the planet by major Central Banks, behind closed doors. The masses (you and I) are oblivious to what's happening. I'd also be really shocked if the Chinese Central Bank wasn't participating, at least on some level. I'm eagerly awaiting a plausible public denial from the SCMP, along with some goofy article on how badly the US Banks are ruining the Chinese financial landscape, followed by a few thousand emails from Chinese trolls telling me how ignorant and far off base I am. If I'm correct, that this is all part of a monetary covert-ops game plan, it stands to reason that if Central Bankers weren't involved in this type of counter intelligence driven financial warfare, they'd be risking the health of their respective economies. The only thing we can do, as card carrying members of the great unwashed, on a personal financial level, is block/hedge for these "War Games" as best we can and hope we survive the carnage and ultimate fallout.
Here's the behind the scenes (Freedom of Information Act) video of a conversation between Treasury Analyst #1 and an unnamed Blackrock Executive. Please be discrete, parental discretion advised:
Oh....and Venezuela a few days ago....or is it Baltimore?....crap....I gotta keep my notes straight....
The Big War Game (Financial WW I)
In order to truly understand what's happening today we have to go back to the "good old days" of the 2008/2009 US Financial crisis, tracking the frequent trips that Hank Paulson, first in his role as CEO of Goldman Sachs and later as Treasury Secretary under George W. Bush. Hank was making dozens of trips, along with teams of prominent US Investment Bankers, to Beijing in order to first, "open up" the US Economy to Chinese Investment and later, as the banking crisis began to unravel, ostensibly to "save the US economy" from complete collapse, reaching out, hat in hand to Wang Quishan and the PBOC, like the stunned debtors they were, praying for a bail out.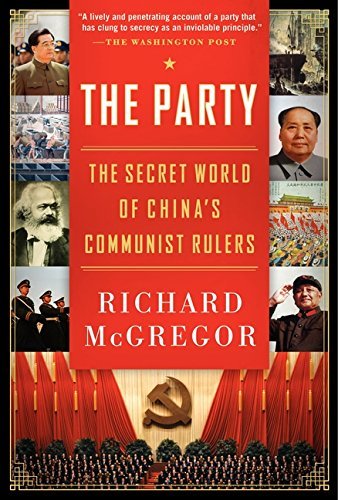 These dozens of visits are wonderfully described in the prologue of Richard McGregor's "The Party", an epic book shedding some much needed light on the Rise of China's political and financial system, as well as the mood and tenor of the Sino-US relationship at the time. Hank's visits were initially described as a hands across the water quest for opportunity, to show Chinese financiers how to develop a sophisticated financial system (for hefty fees) in exchange for access to China's rapidly evolving consumer markets, but as the US Financial System spiraled out of control, as Treasury Secretary, Hank's visits quickly morphed into a cry for help.
What Hank had not counted on was the ability of his new, motivated students to grasp the rules of the game as quickly as they had. Not surprisingly, Wang Quishan, Vice Premier of the financial sector and Lou Juwei, the head of China's Sovereign Wealth Fund and the rest of Hanks Chinese counterparts were conscientious, motivated students. While Hank was reaching out for a helping hand he was also inadvertently teaching these CCP Financiers the intricacies of global investment banking and putting them in touch with the very US Investment Bankers which would help spearhead their foray into the global financial markets. Hank's pals (again, for hefty fees) taught the Chinese bankers about off shore accounts, Tax Haven anonymity and off-the-books Currency Swap financing. They showed them how to launch hundreds of IPOs using VIE's on US Exchanges (US$2.7 Trillion in Market Cap at their high point in the Spring of 2018). The eager Chinese students learned all about the USD as a Reserve Currency and how to issue dollar debt obligations to eager third world banana republic "customers" in exchange for bartered steel, cement, services and labor. They learned how to subvert third world economies with One Belt One Road, by following the US playbook, throwing them into un-repayable dollar debt and foreclosing on assets and access in lieu of dollars if repayment wasn't possible. They learned how to prop up their currency by closing off their capital accounts and keeping "boomerang" Dollars, Euros and Yen anonymously offshore, using this secret Tax Haven money to invest in Bay Area real estate, NYC Condos, Hotel Chains and Western Businesses, again, all with the help of their new Investment Banker friends (for even heftier fees).
The CCP also quickly learned that through their very lucrative continued association with Hank's Investment Banker friends and their lawyers and lobbyists, that with the right financial incentives, they could actually have American laws changed to to their benefit, accelerating their quest for eventual reserve currency status. With the right lobbyists, and the help of Citizen's United, with their sales pitch to legislators masquerading as a quest for openness and globalism, ostensibly benefiting the US Consumer/voter, along with the proper political contributions, they could get the US Post Office to ship their packages of eCommerce name-brand knockoffs, Opioids and Fentanyl for next to nothing direct to the homes of American citizens. They learned they could build Amazon and Walmart into gigantic economic engines by sending shipping container loads of their cheap goods produced by Chinese slave/child labor into the American heartland, destroying small towns, retail and manufacturing jobs and any hope of opportunity for these good people in the process. The Chinese bankers learned all of this and small town, fly-over America never knew anything about it.
"Joe lunch bucket" Americans (us) and politicians alike just assumed that the world was changing, it was all about "technology" or some such load of crap du jour, they didn't (and still don't) understand. Even as their towns were deteriorating and their jobs were going away they still had no idea what global monetary policy was or does. They blindly assumed things were getting tougher and they had to work harder to make a buck. How did the Chinese people do it? Suck it up America! Like the French school crossing guards today, you either get on board, get left behind or eventually....start burning shit down.
Thanks a bunch Hank.....nice work.
Davos!....Let's solve the world's problems!
So here we are today. Of course, I'd be remiss in this post if I didn't mention Davos at least once. For those of you peasants that couldn't make it (...the $300 hot dogs and beluga relish were to die for!) ....the global playground of the elite, where the rich and famous gather to discuss the plight of the downtrodden bourgeois (us), was a tad bit melancholy this year. I pulled one of my favorite video clips (below) where Ray, a Swiss Banker and two representatives of the CCP Public Relations Team talk about all of the incredible opportunities that the CCP is dangling in front of the world...if only the world is just foolish enough to grasp them. I have to say these two, young, energetic Chinese folks really know how to work the crowd. The charming, sincere young lady, I believe her Chinese name translates to "Cruella" if I'm not mistaken, I'm sure will make some unsuspecting Politburo party boss a wonderful ex-wife someday.
Moving along, the only time that the currency problem I've described above comes up is Ray's mention of it in minute 39:00 of the video clip (below). I was expecting him to give a "WTF are you talking about?" commentary/rant, but I imagine he felt that Davos just wasn't the time or place to challenge the veracity or methods of the Chinese Communist Party...probably better to tackle it on safer, more secure American soil. Actually, I probably would have done the same thing, being the risk adverse individual that I am. I wouldn't want my jet to experience CCP inspired "mechanical problems" on the way home to Cleveland.
The point Ray made related to the fictional "opening up" of the financial and currency markets and transitioning the RMB toward reserve status. He clumsily (Sorry for using that adjective Ray but if you review the clip you'd probably agree that your delivery re: these concepts could have been a little better) went into professorial mode through a mini-history lesson of reserve currency and financial center transition from Amsterdam (Dutch Gilder) to London (Sterling) and finally to New York (USD). Again implying that China wasn't ready to take this on since they don't yet have a "real" financial center and truly functioning markets.
Again, you can judge for yourself, but when talking about the currency, Ray seemed a little flustered or perhaps nervous as he was bringing this up. Perhaps he didn't want to piss off the wrong people? Who knows? He further suggested that this transition might be problematic based on the amount of debt ("bonds are piles of cash paid over time") that America would have to sell/transition to fund current deficits, over the next few years (or to infinity...whichever comes last), if there were a sudden (or not so sudden) change in the status quo. Ray recommended, as I have discussed, that the Chinese allow the RMB to move within a given range as it marches toward becoming a floating currency, implying that this should/must be done ever so slowly, over time. That's right..."EVERYTHING IN THE TILL....NO SUDDEN MOVES!
Of course, the Chinese sales team nodded in agreement further indicating that they have no desire to, or ever would consider, doing anything to upset the American apple cart. Trust us! our numbers are right, we are your friends! We didn't steal that intellectual property....Huawei??.. ..ZTO?...An Bang?....what about 'em....they're good people!....it's all a misunderstanding!
In substance Ray and I agree, but I believe, much like my take on Ray's comments regarding "Don't Borrow Money to Finance a World War and Lose!" that the human sacrifice, pain and suffering about to be generated by, and attributable to, this inevitable transition, which at some point could spiral into anything but "gradual", will be much greater than a simple movement to an open capital account for the CCP. God help us, but we might have to recruit Hank to start making those "hat in hand...please sir I want some more" Dickensian trips to Beijing again. As they say, history rarely repeats, but it often rhymes.
Feel free to listen to Ray's comments for yourself below.
Relevant Dalio comments:
Beginning at Minute 8:00 of the above clip. His Currency Commentary is at Minute 39:00.
1.) The world (America, Europe & China) are in the midst of a slowdown and at the end of a mini-debt cycle.
2.) Ray's greatest concerns are: a.) Limitations on the effectiveness of Monetary Policy going forward, b.) The rise of Populism, Polarity and Antagonism around the globe.
3.)
Ray, in his cheery optimistic way, compares the current US macro environment to 1929-1932. Really, he does....it's not just me saying it.
He describes the 1929 US Market Collapse, the Great Depression followed by "money printing" and the accelerating populism, followed by the rise of a competing power like China. (referring to Hitler's Third Reich).
Relevant CCP PR Team - Fang Xinghai, China Securities Regulatory Commission vice-chairman and Jin Keyu, London School of Economics professor (aka Highly Compensated CCP Sales People) comments:
Beginning at Minute 16:00, and various comments throughout the the above clip
1.) The general theme of the discussion was that: China's greatest challenge is.... that the rest of the world truly doesn't understand how great China is! I'm not going to go into any details of this incredible, absurd, misrepresented, "opening up" sales pitch because it was a flaming crock, but feel free to watch it if you have the stomach for it. If they were really serious about "opening up" they'd allow my silly little blog to get past the "great firewall". I could use another billion followers or so.....
The questions at the end of the presentation, given the context discussed in this post, were, well, to be blunt, pretty lame.
The "questions" at these events are generally in the format: 1.) "Here's my important sounding title" followed by 2.) My "pontification of some sort designed to show you how smart I am" followed by 3.) Some "off the wall irrelevant shit that the panel doesn't care about".
The three questions asked were, first, about the PBOC Forex reserves decreasing, (this one was actually Ok). The next was a question about Latin America (out of context given the panel) and finally the Chairman of JP Morgan Chase
International got up, rambled about how "we need to do some policies" and that the "overwhelming subject of risk" faced globally is "the Cyber". Nobody seemed to know what the hell he was talking about and there was no response from the panel. Unfortunately, this guy is an actual "decision maker" and is probably in charge of a significant part of the Chinese Laundry, so his lack of context was a little disturbing to me. His question would have been pretty entertaining if it wasn't also so frightening.
Final Thoughts
Finally, (Please take me seriously here) I don't want anything discussed herein to be construed as China Bashing, China phobia or "I hate China" rhetoric. I have a number of Chinese friends and acquaintances who I admire and respect. I have great admiration for what the Chinese people have accomplished and empathy for the oppression they've endured over the years. Today the Chinese people are in relatively the same position as Westerners. We are all the victims of incredibly shitty egalitarian Monetary policy that's gone woefully amok.
The Chinese people are not the enemies of America....CCP Monetary policy is. I just prefer that their horrific policy choices don't destroy Western Civilization. What happens in Beijing should stay in Beijing.
Again, this blog post is about epically bad financial and monetary policy, historically designed to benefit the "1%", at the expense of the 99%, all over the planet and how to recognize it and deal with it going forward, nothing more.
I also suspect that you are thinking that everything I've discussed above is most likely, dramatically different form what you thought you knew. I also hope that you take the time to digest all of the the above and let all it all sink in.
Again, as you know, I've been writing for years in this blog about the imbalances in the Chinese currency, overstated/fake economic metrics, gigantic debt burden, "fake" IPOs and massive Off-Shore Tax Haven Asset Build Up. Consequently, I've been predicting that the Chinese currency will eventually collapse under it's own weight. I've said the RMB should be valued at 20:1 (or worse) rather than 7:1, for years.
Again, one more time, to be crystal clear, in summary, I was wrong.
I've concluded, over the last few months that it's not the RMB that will collapse.....the path we're on is that Western Currencies will be devaluing to the intrinsic value of the "already collapsed" RMB. Further, I'm probably the only person saying this. Most economists wouldn't imagine anything like this could possibly happen until they take a really unconventional, outside the box, look at the numbers. That's exactly what the CCP is counting on.
As a result of what's about to happen, the wholesale global sell off of CCP Controlled Tax-Haven Assets and resulting liquidity crisis (See:
"When will Xi hit the Sell Button?"

)
Central Banks around the world will be forced to implement Ray's Monetary Policies #1,#2 and #3 as best they can, full blast, printing money, increasing the supply at a breakneck pace, never seen before at any time in history. The longer they delay, the worse it's going to get. On an absolute basis, this expansion will make the post WWI Wiemar republic look like run of the mill QE. Western Currencies will weaken to the current "fake" value of the RMB. Once money supplies equalize, the "fake" RMB valuation will be realized and the CCP will be able to fully release the peg. The RMB will then become the "cleanest dirty shirt in the Chinese laundry." If US leadership allows this to happen, the PBOC will finally be able to let the RMB float......and
the US Dollar will no longer be the world's reserve currency. The CCP will have broken the dollar with a fake, shell game currency scam.....we will have been robbed by little old Chinese guys in a motorized cart.....and we didn't even see it coming!
That, my friends, is China's end game and I believe they are nearing the point where they will have enough off-shore financial firepower to push the button. Let's just hope and pray that it doesn't happen overnight.
If we, collectively as Americans (The highly-pissed-off-French-school-crossing-guards or the Venezuelans certainly aren't going to figure it out) don't do something about this mess, the greatest Financial Crime in history could very well go unsolved and America will have forfeited its hegemony because of it. The US & EU bankers certainly aren't going to admit their culpability today....they have been the enablers and benefactors, or in criminal terminology, they are "accomplices" and/or "accessories after the fact"....."It was just a systemic failure that nobody could possibly have seen coming!" they will opine, even as they had continually lobbied to get banking laws and consumer protections tossed on the regulatory trash heap. Politicians won't admit or describe their complicity, as that would be tantamount to accepting responsibility for what used to be "criminal behavior" and "collusion with foreign agents" or their accomplices..... and that just doesn't happen anymore. Everyone is just "making deals".
In a future post I'll be presenting some (relatively) simple, unilateral policy recommendations that should absolutely be implemented, behind closed doors, without political fallout and fanfare, to EVER SO SLOWLY....NO SUDDEN MOVEMENTS ......begin to reverse what's happening. It's not too late to save Western Civilization, but we've come way too far down this ugly path for a change in direction to be easy and painless....
Let's hope our DC leadership starts to work together, get focused and make some really good systemic policy decisions, solely in the interest of the American people......
I can't believe I just typed that.....but hey, as my Mom & Dad always told me.....even though I'm sure they never thought they'd be, a generation removed, indirectly instrumental in saving Western Civilization from financial collapse...
"Ya' gotta Aim High.....But remember to celebrate the little successes...."
PS: Ray, @RayDalio - If you have a chance, please feel free to comment on this thesis. My guess is that you are most likely conflicted between your love for America, the country that gave you virtually unlimited opportunity to follow your passions, live your dreams and accumulate riches beyond anyone's wildest imagination.....and your desire to make a few bucks on this trade. Of course, if you are contemplating, or already are going terrifically "short" the dollar (i.e.Western Civilization) and/or "long" China I'd fully understand your continued silence on the topic. All the best....