Friday, October 18, 2019
Before we get into the nitty-gritty of today's post I'd like to spend a few minutes (3:31) exploring some philosophical perspective on "point of view". The short clip below illustrates the importance of understanding the "dots", in a well presented context, by Alan Watts entitled "It All Makes Sense". I don't ask much of my readers, but please spend 3:31 of your life listening to this analysis. Feel free to skip any ads that might come up as they are irrelevant. (I guess Alan needs a few bucks...philosophy is apparently no longer the gold mine it once was). It's critical to understand where the rest of this post is going. Go ahead, I'll wait, I'm a patient man.
Note: If you've followed my work at all, and you don't have the time to read every line of my highly entertaining banter, you'll recall that the really important concepts are highlighted in RED for emphasis. Good Luck!
The Repo-Acalypse
In all probability, if you are reading this post and follow my work, you are also probably well aware of the recent implementation of the FED's brand spanking new overnight ($75 Billion) and 14 day ($45 Billion) Repo program which they've announced October 4th, to continue (at this time) through November 4th.

If you aren't aware of this expanding/accelerating ($75+ Billion of Overnight plus another "up to" $205+ Billion, if fully subscribed, since the multiple 14 Day $35 Billion and $45 Billion Funding rounds will overlap) Monetary Policy announcement you should be. To put this figure in perspective, this figure ($280 Billion) is roughly equivalent of the combined Shareholder Equity of Goldman Sachs (GS) ($90 Billion) and JP Morgan ($220 Billion) for YE 2018.....and the US Financial system seems to need this emergency funding to function effectively over the next few weeks. Ouch!...
At the risk of oversimplification, I'll try to put today's material in a format that even technocratic, myopic, closed minded, "data driven" Central Bankers can understand. The reason the FED needs to make "overnight/short-term money" available to the financial system is that there is suddenly some sort of mysterious hiccup in the financial plumbing where a systemic player (or close to it) suddenly needs money (liquidity). Hopefully, the FED folks know exactly who it is and how/why it happened. Here are the specifics as to why this player (or players) must indeed be a "systemic" player/players:
1.) The cost of "Overnight money" spiked to 10% on Sept 17th, indicating that Banks (with spare money/reserves) were unwilling to lend to a particular Entity or Entities under current conditions, so the FED (Through Dealers they are implicitly guaranteeing) are instructed to step in as the lender of last resort.
2.) The Bank(s)/Entity/Entities in question are likely systemic otherwise the FED/FDIC would have simply "done their thing", as they often do, on a Friday night, at close of business, showed up at the problem Bank/Entity's door step and closed it down, only to open, recapitalized, the following Monday under a new banner. There would be no Repo Facility needed.
3.) The expansion of this Repo facility is likely just buying time for the FED to come up with a game plan on how to resolve/unwind this particular, presumably systemic problem.
4.)
The identity of this Bank/Banks/Entity/Entities is always a closely guarded secret since the disclosure of same would most likely make matters worse, causing a "run" and/or involved counter-parties to make decisions not to play in the sandbox (e.g. Bear Sterns/Lehman/etc.)
5.) There are insiders and government bankers/officials who know exactly who the suspected culprit(s) is/are and there are (hopefully) meetings taking place as I type, to come up with a resolution plan to deal with it. At least we all hope so.
To continue my "oversimplification theme" there are only two (2) reasons a bank gets into trouble and suddenly needs significant infusions of "overnight money". The first is a a macro dislocation of some type, i.e.) a bank dedicated/over-weighted in a specific market niche, e.g.) significant lending to an industry or customer base that suddenly experiences severe headwinds or disruptions (Oil,
Commodities, Manufacturing Supply Chains, Farming, Commercial Real Estate lending concentrated in a specific bubble-iscious market, etc. all might come to mind) the loans (Bank Assets) go bad and need to be restructured. Usually, these disruptions take place in, or more likely near, the end of a long recession or down business/debt cycle. The bank(s) has/have been juggling the books/funds for a while and it all finally comes home to roost. Given the current length of the expansion and the lack of significant disruption in the US Economy and financial markets, it's unlikely that this is the problem causing the current Repo facility requirement, at least for the time being.
So let's focus on the other possible cause for the disruption, which is, a rapid, immediate dislocation/shortage of deposits at a particular large institution (or two/three). i.e.) a "run" where only a few folks in the know, decide that, perhaps, for whatever reason, they're not doing business with a particular institution and they pull their deposits. The bank(s) in question would have four choices to continue to meet their immediate obligations when they get the avalanche of withdrawals, wire transfer and SWIFT request(s):
1.) Shore up their deposits/cash position through short term borrowing (i.e. Repo Money)
2.) Quickly sell assets (often at fire sale prices) to reduce their balance sheet and generate liquidity.
3.) Call the loans they've made to "non-systemic" banks.
4.) All three.
It goes without saying that the lower the particular banks "cash on hand" (asset) when compared to its "deposits" (liability), the quicker the problem rears its ugly head. The obvious problem here is to balance good-old "immediate demand for cash" risk versus the earnings hit suffered by not assuming the "stretch for less-liquid yield" risk. I've long opined that, at least in theory, big-systemic banks with unlimited access to FED liquidity have absolutely no requirement to maintain any cash balances at all (While still complying with the Basel requirements). Because of the instantly available FED liquidity these behemoths are insulated from "runs" and in fact, although they would vehemently deny it publicly, look forward to these liquidity crunches as an opportunity to expand market share, absorbing their smaller "non-systemic" rivals and picking up distressed assets at bargain prices. Because of this implicit bail-out guarantee, they are able to invest their "free capital" in any dog-shit, boondoggle, deals they choose as long as they generate significant fees, which is exactly what they've done. Conversely, "non-systemic banks", without direct FED/liquidity access and "free capital" are forced to maintain higher cash balances, have no/little access to these global-fee-generating-boondoggles, starving them of albeit fleeting/fake earnings. Because of this structure, non-Systemic banks have become dangerously dependent on the generosity and largess of the Big "Systemic" banks to lend a helping hand when times get tough.
This is, of course, the primary reason that the number of FDIC insured US banks is roughly half (4,605 vs. 8,620) of what it was 20 years ago even while the money supply has increased three fold. You'd think that more money would spawn more opportunity and expansion in the banking business, but because of the above described pricing and financing preferences, the exact opposite has happened. Consolidation, in any industry, is the expected result when a government guarantees risk-free capital preferences to certain systemic actors and starves the "little guys" out. (See: Amazon vs. Main Street Retail; Agri-Business vs. the Family Farm; Uber/Lyft vs. Cabbies, etc.) So it goes....
Of course, because of the breadth, depth and resilience of the US Financial system, the sudden, immediate need for secure overnight financing would indeed take a gargantuan, unlikely series of unfortunate events, that nobody could possibly have seen coming, to cause a disruption of such magnitude, requiring, for example, a quickly expanding short term $75 Billion+ FED Repo Facility and a $205 Billion Term Facility, where, if it didn't exist, certain, unnamed, anonymous "non-systemic" banks would be relegated to either paying 10%+ (the observed market rate) for overnight money, or fail to make the required wire transfers that their fleeing depositors may have requested. Neither path would contribute to the perception of longer term viability for these decision-tree challenged, non-systemic victims of their own ill-advised endeavors. "Free Markets" can be tough....
US Dollars "Owned" by Foreign Entities
Now, let's take at the look at two of my favorite "profusions of dots under the microscope" as Alan Watts described above. We're going to examine two of my favorite data sets: The Bank of International Settlements (BIS) International Bank Liabilities/Deposits data, and the US Treasury International Capital (TIC) data.
Before we get too far into this, let me assure you, what we are about to discuss is a complex topic, that nobody talks about. It's boring, takes a significant understanding of economics and monetary policy and is generally never going to appear on the front page of the Wall Street Journal or the New York Times. Nobody cares. In fact, the only people who truly understand what's happening are Chinese Central Bankers and they don't give interviews. As you are reading this, if you start to get a headache, stop reading for a few minutes, take a break, maybe fix yourself a stiff drink, or maybe even get some sleep, regroup and carry on. You'll get through it. This really is an "urgent and horrifying news story".
The Bank of International Settlements -
US Dollars "Owned" by Foreign Entities Outside of the US Banking System
We will start with the BIS Quarterly report on "Local and Cross-Border Bank Liabilities and Claims". (Please stop applauding/cheering and focus....I understand this is some of your favorite reading material, but let's get a grip and press on)
The BIS is an incredible repository for unintelligible "dots" that nobody seems to look at, primarily because it's dated, published six months in arrears and significant players (i.e. China and the US) don't report "local" data anyway. China and the US report "Cross Border positions" only. But like life, when whatever you have to work with isn't exactly what you need/want, you have to make the best of it. I'm hopeful that our friendly Central Banker decision makers have better, more precise data at their disposal.
https://stats.bis.org/statx/srs/table/A5?c=5A&p=
So what exactly are these "meaningless dots" we are looking at, trying to make heads or tales of, above? For the purpose of our analysis today, let's focus on the following (all of the figures are presented in USD equivalents):
1.) The table above shows all of the "Money" scattered all over the planet, (bank and some non-bank). "Money" is presented in equivalent US Dollars. For the purpose of our analysis we will use "liabilities" as a surrogate for bank and non-bank "deposits" and "short term debt instruments" (CD's & demand notes, etc.) or ...."Money" as described "By Instrument" above.
2.) We see that per the BIS, Total Global Deposits/Liabilities/(Money) is $99.4 Trillion comprised of "Local" Liabilities/Money of $69.5 Trillion, "Cross Border" (Off-Shore) Liabilities/(Money) (money held outside of the home country) of $27.3 Trillion and "Un-allocated" Liabilities/Money of $2.7 Trillion. (Apparently this $2.7 Trillion is "on the books" but the BIS can't tell exactly where it is. No matter, it's only $2.7 Trillion (15% of US GDP) so we'll treat it as a rounding error....Yeeeshhh
3.) If we examine the "
Blue Highlighted Figures
" we note that US Dollar denominated "Local" Liabilities/(Money) is $3.9 Trillion, "Cross Border" (Off-Shore) US Dollar Liabilities/(Money) is $10.2 Trillion. $671 Billion is "Un-allocated" (I love rounding errors don't you? The rough equivalent of Market Cap of the five biggest US Banks is somehow sitting somewhere in the world unaccounted for). Which in aggregate comprises a total of $14.8 Trillion. In other words "The World" outside of the United States is somehow getting by on only $14.8 Trillion USDs.
4.) The simple math tells us that, since the US and China do not report "Local" Liabilities/(Money), the US Dollar comprises roughly 54% of all "Cross Border" (Off-Shore) money, dwarfing any other currency, with the next closest currency being the Euro at $4.2 Trillion (14%), with the Pound Sterling and the Yen amounting to roughly 3% each. These four currencies comprise roughly 74% of all "Cross Border" (Off-Shore) Money.
5.) Keep in mind that "Cross Border" Money could be foreign ownership of US Dollars residing in either US "Local Banks" or foreign banks or branches domiciled in the US. (
This is really important...put this concept in a safe place in your cerebral cortex as we'll be discussing it a little bit more later
)
6.)Again, as a point of emphasis, we have no idea, at least from BIS public data, what the level of "Local" US Dollar Deposits looks like in off shore Chinese Banks.
7.) The RMB, of course, is not relevant since it has no material "Off-Shore" presence. Again, China does not disclose "Local" Liabilities/Money, presumably, most of which would most likely be RMB, but again, we have no idea what, if any, are the real US Dollar balances held in/by Chinese depositors in Chinese banks.
8.) Even if we did have official deposit/liability figures from the Chinese Government or PBOC they would probably be inaccurate due to the Chinese Communist Party generally being a bunch of lying liars who lie.
So now let's take a look at the Off-Shore Money trend over the last few years.
So what do the above charts tell us?
1.) The first chart shows us that the amount of "Total Dollars held Off-Shore" (Outside the US Banking System) has increased by about $800 Billion since 1/1/17, to $14.8 Trillion.
2.) The increase is primarily in China and Hong Kong ($330 Billion), the United Kingdom ($300 Billion) and Cross Border (Off-Shore) deposits/liabilities controlled by US Depositors ($100 Billion). The remaining $100 Billion is spread around the rest of the world in the following BIS Reporting Countries.
3.) Interestingly, there are roughly the same amount of USDs (combined Local and Cross-Border) $2.2 Trillion in the UK as are held as US Cross Border deposits/liabilities. China Cross Border USD values are nearly as high at $1.9 Trillion.
4.) According to the BIS figures, just under half (42% - $6.2 Trillion) of the World's Off-Shore USDs are concentrated in China, Hong Kong, the UK and US Cross Border. The remainder (58% - $8.6 Trillion) is scattered all over the rest of the planet.
5.) Most importantly, again for emphasis, the Global USD increase over the last two years was primarily attributable to domiciles outside the United States (88%), with only 12% of the USD increase attributable to US Cross-Border Bank Liabilities/Deposits. In other words, the Global inventory of "newly printed" USDs is rapidly being absorbed by foreign ownership.
Treasury International Capital "TIC" Data -
US Dollars "Owned" by Foreign Entities In the US Banking System
Now, let's take a look at Foreign holdings of deposits/liabilities "inside" the US Banking System. Again, the data available is unfortunately "rear view" mirror data, i.e.) It gives a perspective of the size of the potential disruption but it gives us no indication as to current direction or flow. The most current data available form the Treasury is as of Q2, 6/30/19. I'm hopeful our FED leadership has better, more current data, but again, I, sadly, I'm unaware of it and/or don't have access to it.😠
https://ticdata.treasury.gov/Publish/bliabs_cntry.txt
https://www.treasury.gov/resource-center/data-chart-center/tic/Pages/index.aspx
https://ticdata.treasury.gov/Publish/lb_99996.txt
We see a couple of interesting data points in the chart above.
1.) Total Liabilities/Deposits held inside the US Banking system by foreigners has increased $167 Billion in the last year. Total US Dollar deposits held by foreigners is $5.3 Trillion.
2.) Of that $5.3 Trillion, $1.9 Trillion is held by Europeans, $1.6 Trillion is held by Cayman Islanders, $400 Billion is held by Japanese depositors, $200 Billion is held by the Chinese and $1.2 Trillion is held by depositors in the "Rest of the World".
3.) I find it interesting that the Cayman Islands, a couple of tiny Caribbean Islands, populated by roughly 60,000 people, has somehow managed to accumulate 20,000 Investment Funds, a presence of 130 Global Banks, the home of nearly every Chinese ADR listed on US Stock Exchanges (roughly 190 listings with a market cap north of $2 Trillion) and US Bank deposits nearly the size of all of Europe. The only conclusion we can draw, despite the Treasury classification above, is that the deposits are actually "someone elses money" rather than the property of the wonderful citizens of the Cayman Islands. But I digress...
4.) Since we have no way of knowing who actually controls these deposits, it would not be a stretch to think that a significant amount of this liquidity is actually owned/controlled by Chinese entities.
5.) Of the $1.9 Trillion European deposits $1.4 Trillion (70%) are held in the UK and Tax Havens (Ireland, Luxembourg, Netherlands and Switzerland). Again, because of the anonymity afforded by these financial centers, we again, have no way of knowing who the real owners of these deposits are. i.e.) How much of these Tax Haven deposits is really controlled by the Chinese Communist Party?
6. Since the above described funds are currently in the US Banking System we can also see that foreign ownership of these deposits represents roughly 38% of US Broad Money (M3).
7.) When we examine the M3 Chart above we also see that China (RED) is the outlier, more than doubling their domestic money supply when compared to the US, Europe and Japan. The PBOC has been able to accomplish this "say so" exchange rate since the RMB, again, like so many things Chinese, is a fake currency with a pegged value which has nothing to do with economic reality.
The second largest economy in the world has a closed, inflated currency which nobody uses. Yup....that's a fantastic idea. As you historians might recall, the Reichsbank tried the same thing in 1920. But they didn't have computers/wires/SWIFT so it was easier to spot. The reason the Mark failed was that they actually tried to use this currency to pay their international bills (WWI Reparations) and the Allies caught on.
8.) Note that the RMB, despite the Chinese economy being the world's second largest, remains a useless, closed currency for both international trade and global investment (at least for now), yet Chinese (all domestic) M3 is more than double the world's other major economies, even though China GDP is roughly half of US GDP. Also remember that the People's Bank of China releases its M3 figures nearly a half year in arrears, again, the presumed Occam's Razor explanation for this is that the figures are suspect/fake, and again, that the Chinese Communists are, for emphasis, "lying liars who lie".
Now, let's take a look at the US Broad Money Supply (M3) TIC data in conjunction with the above described Off-Shore Bank Liabilities/Deposits as provided by the BIS, and make an effort to see how it all fits together. In the Table below I describe the comparative levels of US Dollars in various jurisdictions in four "time snapshots". I chose YE-2003 (a relatively stable economic time just after the bursting of the dot-com bubble), YE 2007 at the peak of the pre-GFC froth, YE-2008 (The commencement of the Great Financial Crisis) and last, Q2 2019 (The most current data available). Let's take a peek.
Of course I'll be the first to acknowledge that there is absolutely some double counting here since, for example, there is no way that I know of to eliminate certain overlaps in the figures, such as:
1.) Some of the foreign Cross-Border BIS Dollars from "Country A" could be domiciled in US Banks as well as other countries banking systems. We have no way of determining the overlap.
2.) US Cross-Border BIS Dollars could be reported as "Local" US Dollar deposits in the particular jurisdiction.
3.) In this analysis, we use "Net" M3 (M3 less USD deposits held by foreigners per TIC) to approximate what should be, if they were disclosed by the BIS, defined US Local Dollars, which are not shown with certainty.
4.) We have no way of knowing the extent of "Local" US Dollar deposits in China. They are not reported in the BIS Data. I'd suggest that the figure might be substantial. The TIC data shows us a relatively low balance of $135 Billion (US Dollar deposits owned by Chinese depositors in the US Banking System). I'd also suggest that the aggregate Dollar deposits that the Chinese Government actually controls might/should be much larger. i.e.) They've obtained/controlled several hundred billion US Dollars per year derived from continuous trade surpluses, for the last 20 years. If properly invested, these US Dollars should have compounded to at least $15 Trillion, likely invested in Chinese controlled Western Financial Assets and Real Estate. (I'll attempt to prove this concept a bit farther down the post....please be patient) Remember, and I just want to reemphasize this, the Chinese Communist Party is an amalgamation of lying liars who lie. (....are you getting this theme yet?)
So now that we've discussed what's wrong/inaccurate with/about these numbers, let's discuss what they are telling us since they were consistently compiled over time.
1.) The first thing we notice is that Total Global US Dollar Deposits has more than doubled, to $29.571 Trillion since 2003.
2.) Domestic US Dollar deposits, used to support America's "main street" economy
(Dollar Deposits held by US Depositors in the US)
are 32% of total Global US Dollars in circulation.
3.) As the issuer of the World's Reserve Currency, America has assumed the role of currency purveyor to the rest of the world. (As of June 2019, 69% of US Dollars in circulation were held by foreign entities either in US Banks or Cross-Border in foreign Banks).
Again, the Chart above, derived from the previously described BIS/TIC data, illustrates the following very important concepts:
1.) Roughly half of all US Dollar Deposits in circulation are held by foreign entities in foreign Banks.
2.) Roughly 20% of all US Domestic US Bank Deposits reside in accounts owned by foreign entities and individuals.
3.) Only 32% of all US Dollar deposits in circulation, roughly $9.4 Trillion, are owned by US Entities and individuals and held in Domestic US Banks. (The "Green" area on the above chart)
The point of the above is that the US dollar, through the FED's relentless, forced, monetary expansion, has somehow morphed from a secure, reliable currency, desperately needed to transact international trade, to a ubiquitous repository for the world's financial asset inflation.
In short, as we will see in the next section, there's a real chance that the FED has lost what used to be de facto control of the dollar. They just don't know it yet. They (presumably) have no idea why so many dollars ($29 Trillion+) have made their way into places that, to be blunt, constitute a national security risk, when less than a third of that amount is required to run the US domestic economy. They are following the CPC "pump and dump" game plan right into the abyss.
They provide dollar liquidity at any and all cost. The problem, as I see it, is that the FED, and for that matter, the world's Central Bankers, rather than stopping, taking a breath and the time to understand the impact of what their policies are really doing, are blindly dumping money down the QE toilet without bothering to figure out where the sewer line might be leaking or what that overwhelming stench might be. At some point we're all going to be knee deep in monetary
拉屎.
Where's the Money Lebowski?
After decades of $500 Billion (plus/minus) annual global trade surpluses you'd suspect that the Chinese must own not only a significant amount of US Dollar deposits scattered all over the world, but significant financial assets (Stocks, Bonds, Real Estate, etc.) as well, and you'd be correct. Over the last two decades the West has transferred roughly $11.266 Trillion (in Dollars, Euros, Yen, Sterling, etc.) as a result of these trade surpluses.
Through the miracle of compounding interest, we can estimate that the value of Western Assets (including the Chinese portion of the above described bank deposits) controlled and direct-able by Chinese Communist Party, members and agents is roughly $27.321 Trillion (give or take) if invested at the S&P Total Return as described in the table below. Again, we know this with certainty, since there are no material RMB deposits or RMB denominated financial assets in any non-Chinese Banking systems anywhere in the world. This $27.321 Trillion can move freely around the globe between US Dollars, Euros, Sterling, Yen, Hong Kong Dollars, Canadian & Aussie Dollars, Rupees, Pesos, etc. etc. etc., but it's never been converted to RMB.
This approximately $27.321 Trillion, Chinese money/assets
is still lurking in the Western Financial System somewhere.
(Note: The figure could be much greater since the Chinese, as large depositors, have had unlimited access to excellent financial advisers, and leverage, provided gleefully by our friendly US Investment Bankers. The CPC has most likely beaten the S&P Returns with consistency)
https://oec.world/en/visualize/line/hs92/show/chn/all/all/1995.2017/
Of course, there are many differences between Western democratic and Chinese Communist philosophies. The most relevant of which, in the context of today's topic is, and that what Westerners universally get wrong involves "property rights".
Westerners believe that the right to own private property is inviolate, separate and immune from state interference in all but specific, predefined circumstances. Authoritarian Chinese Communism, on the other hand operates under a pseudo-privatization model, where the 90 million party members believe and fully understand that they own property only at the party's behest.
They know full well that this "right" can be abrogated and snuffed out in the blink of an eye if they fail to toe the party line and/or somehow fall out of political favor.
For the sake of argument, lets just imagine that there are financial, social and political incentives, as well as onerous "disincentives" (re-education, ostracism and possible mysterious disappearance or "accidents" befalling the party member and/or their loved ones) which party members are made well aware of.
Using this management style, it wouldn't be far fetched to believe that the Chinese Communist Party would be fully capable of orchestrating and directing a symphony of 90 million people, investing and managing money exactly the way they are told to. Under the direction of the CPC this giant hive, comprised of 90 million individual worker bees, has been buzzing away for decades, redeploying their $27.321 Trillion, slave-labor trade surplus to Western bank deposits, financial assets, stocks, bonds, Real Estate and businesses, etc.
Western Bankers see tens of thousands of off shore entities, as well as millions of individual depositors and investors, home/condo buyers in targeted cities and job seekers in high tech industries and Western financial centers, all needing loans, bank accounts and fee generating services. Western Bankers welcome "newly minted" Chinese billionaires with no discernible background or verifiable history showing up on their doorsteps with millions (or even billions) of US Dollars to invest, as well as dubious IPO business plans where, when asked about specifics or details, either decline to respond citing "state secrets" or simply threaten to pull the deal (recruiting another banker to get the job done). If one banker won't sell out America, the next one will. The deal, of course, always somehow gets done.
Where the West has failed, is that we have blindly (or not) chosen to take all of these transactions at face value, naively treating these individual deals as "Westernized" free-market transactions, believing that the preservation of Western-style property rights and Tax Haven anonymity would prevail and that the rights of the individual Chinese banking customer must therefore also prevail. In reality we should be treating all of these transactions as if they are all consummated by one, and only one, gigantic bad actor, the Chinese Communist Party.
How would Western Governments react if today, a Chinese Government delegation showed up in Washington DC and made an offer to buy lots of Manhattan and Bay Area Real Estate and a third of America's stock and bond markets at a deep discount, also making a relatively forceful demand that we close down and/or recapitalize half of our financial institutions, disrupting the global purchasing power of our currency, as part of the "trade deal"? I doubt that this proposal would get very far.
Unfortunately, it's already happened, we've just failed to collectively see it.....
I've written, in a bit more detail in a previous post entitled "
A Modest Proposal
", on our need to prevent the inevitable capital flight in order to have any chance of surviving this as a nation. The point of the exercise is that we need to quickly figure out and take measures to freeze CPC controlled bank accounts and financial assets. We need to take a page out of the People's Bank of China play book. We need put an iron-clad wall around US Banks and prevent US Dollars from fleeing. We need to implement emergency "Hotel California Monetary Policy" for identifiable Chinese Communist Party agents/operatives/entities/assets....in simple terms "they can check out anytime they like....but their money can never leave".
As an alternative, again, taking a page out of the PBOC playbook, we might consider an overnight "split" our currency, similar to the mechanism deployed for CNY vs. the CNH. (Except the values would remain market driven...both the Offshore Dollar and the On-Shore dollar would float independently) We would define the US Dollar as the "USDO" or USD residing in US Banks "On-Shore" and "USDF" or USD residing in Off-Shore Banks, controlled by Non-US depositors or in Foreign Banks On-Shore in the States. The framework would require a separate exchange rate, locking all of these dollars off-shore, making them relatively worthless/frozen until a market rate can be determined/established. FED policy would obviously focus on the supply of USDO, with the USDF as an afterthought.
Of course, we'd have to do some calculations to determine the impact on the economy and liquidity as well as determine which accounts to freeze, and an expedited process to unfreeze them in the event of an error, but I am sure that the FED and the Big Banks have some pretty sharp economists, IT folks and mathematicians who are up to the task. I'd also suggest we get this in place after markets close on the next feasible Friday night. I know it's a lot of work, but it seems to have worked out pretty well for the PBOC. As an aside, based on the above, we probably wouldn't need all of that Repo money....
We would immediately "win" the trade war by discounting all of the Chinese Controlled USD Assets. Alternatively, we could continue on the path we're on, learn to speak Mandarin and prepare for "reeducation".
Desperate
times call for
desperate
measures.
Of course, the good, brave people of Hong Kong understand this style of government all too well, which is why they are fighting for their collective lives.
High Value Targets
General Billy Mitchell
said it best...."The nation who control's the air control's the sea".
For those of you who have never heard of General Billy Mitchell, he was the father of America's modern Air Force. The video clip below shows how he "proved" that lots of rickety little airplanes carrying bombs could actually be used to sink previously thought unsinkable battleships.
Actually, for the purpose of today's discussion, I'd like to modify Billy's statement to "the nation that controls the global financial system, control's the world".
Keeping the above in mind, let's take a look at, for no particular reason, other than it's the biggest US gorilla in the global financial jungle, your favorite predatory bank (and mine), our old friend, JP Morgan Chase.
Before we begin, it's come to my attention, that, shockingly, some of you don't spend nearly enough time wading through the bales of "big bank" filings on a regular basis. I'm disheartened by this, but I'll take the time to get you caught up. As always, I'm here to help. By way of background, for today's discussion, I also feel it's important to start with
JPM's 2018 10K
and get a handle on one of my/our favorite topics. Drum roll......"Tier 1 Capital".....rim shot!
Let's start with the basics: What exactly is the "Tier 1 Capital Ratio?"
That one is easy: The Tier 1 Capital is the ratio is the ratio of "Risk Weighted Assets" divided by "Tier 1 Capital". For JPM, the Tier 1 Capital Ratio came in at 13.7. In other words, JPM's "Fortress like Balance Sheet" has $1 of "Tier 1 Capital" for every $13.7 dollars of "Risk Weighted Assets". Awesome!
So what is "Tier 1 Capital"?
That one is also pretty easy: "Tier 1 Capital" is Shareholder's equity with a few adjustments for intangible assets and preferred stock. (pg. 40)
"Risk-Weighted Assets, on the other hand, is a bit tougher to get a handle on. Here's the language from the 10-K (pg. 89)
RWA: "Risk-weighted assets"
:
Basel III establishes two comprehensive approaches for calculating RWA (a Standardized approach and an Advanced approach) which include capital requirements for credit risk, market risk, and in the case of Basel III Advanced, also operational risk. Key differences in the calculation of credit risk RWA between the Standardized and Advanced approaches are that for Basel III Advanced, credit risk RWA is based on risk-sensitive approaches which largely rely on the use of internal credit models and parameters, whereas for Basel III Standardized, credit risk RWA is generally based on supervisory risk-weightings which vary primarily by counterparty type and asset class. Market risk RWA is calculated on a generally consistent basis between Basel III Standardized and Basel III Advanced.
I'm not kidding, that's what it ways. Fortunately, I'm sure there are all sorts of sophisticated calculations buried in the "internal credit models and parameters" which guarantee that there is absolutely no monkeying around with these numbers, which might make it impossible not to hit compliance targets. Of course, there is also no calculation of the composition of "Risk-Weighted Assets" other than the disclosure of the amount used to calculate the 13.7 Tier 1 Capital Ratio, or $1.529 Trillion on ( pg. 89). That sure looks safe doesn't it? I mean, the bank has $1.5 Trillion of liquid assets that can easily/immediately be converted to cash if there's a "run"....isn't that what that means?
As an old time, simple minded bookkeeper I prefer a much easier and in my opinion, a more informative ratio. I refer to it as the "Cash to Deposits" ratio. As of the 2018 10K, JPM's "Cash to Deposits" ratio was 0.17 ($256B/$1,471B), or 17 cents of cash on hand for every dollar of deposit "liabilities". Of course "Bank Deposits" are the most current of current liabilities. "Current" means "I want my money NOW!" In other words, if 17% of JPMs "demand" deposits are moved/transferred or "demanded" they would run out of cash and would have to "do something" (i.e. borrow Repo money. call loans to non-systemic banks or sell assets overnight/immediately). In the "good old days" when we actually had a "time value of money" and a normalized yield curve, it made sense for a systemic bank like JPM, knowing the FED is a reliable/immediate backstop, to operate with as little cash on hand as possible (approaching zero) in order to maximize income. This strategy still makes sense today, but with a yield curve that looks like it got hit by a steamroller going down hill, it's significantly less profitable. Of course, smaller "non-Systemic" banks that don't have access to immediate/overnight money (
e.g. Lehman, Bear, National City, Countrywide, WAMU, Wachovia, etc. etc.
) simply are closed/absorbed if too many of their depositors suddenly "Can't wait until Friday and want their Money NOW!"
Now let's take a look at JPM's deposit composition ($1.471 Trillion) and cash on hand ($256 Billion) in relation to the world's supply of dollars.
1.) Per the above, we know that the sum total value of the world's bank deposits is $114.2 Trillion (Excluding RMB deposits since RMB deposits aren't reported by either the BIS or TIC).
2.) Of the world's $114.2 Trillion in bank deposits, $29.6 Trillion (26%) are denominated in US Dollars.
3.) Of these $29.6 Trillion, $20.2 Trillion (68%) are "Owned" by foreign depositors/entities.
4.) JPM, is arguably the biggest gorilla in the global jungle, with total deposits that represent a hefty 5% of total US Dollar global deposits, but with "Cash on Hand" of only $278 Billion representing less than 1% of all of the dollars on the planet.
5.) Given that 68% of the world's dollar deposits are controlled by foreign entities: The big question we have to ask is: What amount of JPM's deposits (or for that matter, any of the big bank deposits) are controlled by foreigners, specifically Chinese Communist Party members, agents and operatives and secondly, under what conditions might they want to just wire it off shore to another non-US Bank? The next big question we must ask is: Are there any mechanisms to prevent these deposits from suddenly moving offshore, out of the reach of US Banks?
In other words, if I were a bad actor (i.e. the Chinese Communist Party) and I had enough resources (which they probably do), and my goal was to start a liquidity crisis in a particular market or at a particular bank, I'd:
1.) Sell a US dollar asset (real estate/stocks/bonds/etc.)
2.) Wire the money off shore to the Bank of China, ICBC, China Construction Bank, Agricultural Bank of China, Hong Kong, Caymans or Singapore Banks, etc. etc.
3.) Repeat
The above figures tell us that, specifically in the case of JP Morgan, if the Chinese Communist Party has a few hundred billion in movable deposits at JPM they could immediately absorb the entire, current FED "emergency" Repo facility. Poof!
The next question we should immediately ask is: What is the level of CPC deposits (and corresponding cash on hand) that Citi, Goldman, Bank of America, Wells Fargo, etc. have?....and are they at risk of a "Run" as well?
So What Does All of This Have to Do with Repos? What does it all mean?
I wrote the following prophetic paragraphs in a blog post eight months ago in February of this year.
Most of what I'd described in the post (
Dalio's "The Big Debt Crisis"....the FSB Report and Financial War Games)
seems to be coming to fruition. Deposits are leaving the US Banking System, there's apparent, sudden confusion at the FED, with a rush to replace liquidity, yet as of the other day we continued our commitment to keep selling soy beans and other agricultural products to the Chinese and we delayed tariffs once again. It looks like the CPC efforts remain "on plan".
As a diversion we are apparently following CPC/Russian foreign policy advice, chosing to screw around with Turkey, Syria and the Kurds in yet another "Wag the Dog" distraction.
There's a good chance that what we're seeing at the New York FED's Open Market/Repo Desk is the beginning of the inevitable liquidity crisis and asset valuation reset many of us have been expecting for quite a while. The numbers make it obvious, yet our central bankers seem much more amenable to taking the easy path, continuing to print money until investors decide that perhaps, the US Dollar is no longer the safest of safe havens that they once thought it was. Everything will become relative once again.
As of this writing, the FED's emergency Repo facility is the first, yet soon to prove inadequate solution to a problem they don't yet understand. The FED's ad hoc remedy generally dumps money into the system without targeting the specific problem. Again, rather than pouring money down the toilet, I'd suggest a more surgical approach, figuring out exactly where the money is going, why it's going there and make a relentless effort to stop it from going there.
Again, the below described "
Inevitable Monetary Journey
" chart describes that at some point soon the Chinese Communist Party will be accelerating their "Pump and Dump" and increasing liquidity pressure on US Banks, who will continue to look the FED for short term financing. The FED will continue to provide funds, failing to understand that they are dealing with a long term structural problem.
There is no question, at least in my mind, that the Chinese Communist Party has accumulated more than enough US Dollar and Forex resources to accomplish their dollar devaluation exercise. I'd discussed the evolution of the nominal composition of US Money and Financial Assets a while ago. Note that under my model, the FED Balance Sheet will expand from the current $3.9 Trillion to $16.4 Trillion, and US Domestic M3 will increase by nearly $4 Trillion by 2023 (God only knows what off-shore dollar deposits will look like, but God doesn't do interviews either) if we stay on this path, attempting to both support nominal asset values and the current, unquenchable global thirst for US Dollars.
The table below describes (in comparison to last decades self induced Great Financial Crisis) the movement of major Asset Class Valuations. We see that US M3 increases $2.2T (15%), The FED Balance Sheet increases by $8.5T (216%) as they go "Tarping", US Equities Decline $10T (33%) US Residential Real Estate declines $6.3T (18%), As in most estimates/models the timing and adjustment amounts can be questioned, but I would imagine that these valuation adjustments are at least directionally correct, and probably optimistic depending on the rapidity of the "dump".
Given the above, the optimal time frame for the Chinese to begin releasing the RMB into the global financial system, will be bottom of the "NGFC" (The Next Great Financial Crisis). Obviously, since they caused the carnage, they will be able to call the bottom.
Generally, here's how this will go down. Chinese "investors" will come riding in on a white horse, offering to loan money, buy property, stocks, bonds and financial assets. Only this time, the offers will be made in RMB rather than US Dollars. With every other currency on the planet weakening, with the only notable exception being the RMB (because nobody uses it), the CPC will be offering the RMB at an exchange rate of probably somewhere around a managed/fake exchange rate of 6:1. This awesome plan will be pitched by our friendly US Investment Bankers, presumably coming up with all sorts of exotic RMB products which will finally integrate the RMB into the global financial system. They will opine that this "opening up of the RMB" plan will be the only way to save the global financial system from ruin (for some hefty fees). Once again, the arsonists will have transitioned to the role of fire fighter. From my point of view, this is not the "only" plan. From my point of view, rather than selling off America a piece at a time for a fake ponzi-scheme currency, we should seize every Chinese held, USD denominated asset, close and revoke the charters of any Chinese Banks and CPC controlled ShellCos doing business in the US, cancel any suspect SWIFT numbers and immediately stop any off shore wire transfers where the final recipient can't be verified in anticipation of the above "splitting" of the USD.
As an aside, I would see nothing wrong with firing every US Banker with the term "International" on his or her business card with a title above "VP" as well as some relentless prosecution and multi-decade jail time for the arsonists, as opposed to relying on them to fix the problem (for hefty fees). We didn't do this after the GFC and look where it got us.
Demand for the Almighty Dollar
Nevertheless, today, the US Dollar is the place to be. Even though we're expanding the money supply at an unprecedented rate, the exchange rate is indeed solid as a rock and in fact, recently appreciating. Everyone wants dollars......"Dollars, dollars everywhere and all the banks did shrink, dollars dollars everywhere and nor drop to spend"
(Plagiarized/adapted and butchered from Samuel Taylor Coleridge "The Rime of the Ancient Mariner")
You'd think it would be unlikely that the dollar might strengthen in the face of declining interest rates, an inverting yield curve and increasingly accommodative, mid-cycle Quantitative Easing (which no one at the FED seems to confirm as QE), but the explanation that the dollar has become the newly designated WMD of the Chinese Communist Party and the resulting demand for same will continue until sufficient damage is done, would seem to be a rational explanation for the strength. The dollar will keep appreciating until the Chinese no longer want it to, and they decide that they will no longer be hording dollars. The dollar will stop appreciating when the CPC finally convinces the rest of the world to accept RMB in exchange for the rest of the world's rapidly depreciating, readily available currencies,with the dollar finally succumbing to gravity.
The FED has, apparently unbeknownst to them, abandoned their mandate to use monetary policy to 1.) Provide full employment, and 2.) Maintain price stability. I'd also argue that we are long past the point where any additional stimulus has any impact whatsoever on the "real", domestic, US economy. The domestic economy apparently only needs 32% of the US Dollars in circulation to keep chugging along, yet, the FED keeps printing. The balance of whatever level of stimulus the FED chooses to provide, and it has become overwhelmingly substantial, has been, and will continue to be siphoned off as a store of value for global banks, foreign investors and the Chinese Communist Party, hopeful that the dollar will, for the time being, continue to be a safe alternative to the dog-turd stocks, bonds and currencies of their respective floundering economies.
As the FED continues to provide "Nominal Asset Value Supporting Dollars" at a pace heretofore unprecedented, at least since the post WWI Wiemar Republic, these dollars will eventually have to go somewhere (and rapidly devalue). We've already established that there's no mechanism, and 20.2 Trillion (and growing) reasons, which prevents these dollars from moving into the main street economy where they could actually get "spent". Foreign investors will be forced to look for safer, better alternatives than US Financial Assets as they continue to hoard deposits. The previously obvious choice between the rest of the world's financial dog-turds and those slightly less malodorous doggie-doo assets sitting in US Markets will become a bit cloudy. Once the world loses its appetite for US Dollars, it must begin investing, storing and converting it to "other stuff". What that "stuff" might be is up for debate, but it's clear that whatever it is will be deeply discounted, as will the assets currently denominated in US Dollars. Of course, the ultimate end game is that the Chinese Communist Party is betting that RMB assets will finally be a viable global alternative to US Financial and European Financial Assets . Based on the above, the idea that the RMB could become globally viable at an exchange rate that would not destroy the current/fake value of Chinese Assets is not not nearly as far fetched as I might have thought just a few years ago. If and when that conversion actually starts to happen, it will also become painfully obvious for America and the rest of the free world.
Let's just hope it doesn't start next week, since it's clear to me that the FED isn't ready for it.
Bonus Footage: The New York FED Open Market Ops Desk
As an added bonus in today's post, I'm adding some behind the scenes footage from the New York FED Open Market Operations Desk. It's gotta be hell over there. "I love the smell of SOFR guidance in the morning.....smells like....victory....... Someday this war's gonna end son...."
Additional Reading
https://www.wsj.com/articles/new-york-fed-adds-82-7-billion-to-financial-system-in-latest-repo-transaction-11570801329
FED REPO Operations
https://apps.newyorkfed.org/markets/autorates/temp
BIS - China Q1
https://stats.bis.org/statx/srs/table/A5?c=CN&p=
BIS - US Q1
https://stats.bis.org/statx/srs/table/A5?c=US&p=
BIS - All Reporting Entities - Q1
https://stats.bis.org/statx/srs/table/A5?c=5A&p=
FED - Daily REPO REFERENCE RATES
https://www.newyorkfed.org/markets/treasury-repo-reference-rates
FED - Repo & Term Operations
https://www.newyorkfed.org/markets/domestic-market-operations/monetary-policy-implementation/repo-reverse-repo-agreements/repurchase-agreement-operational-details
Cayman Monetary Authority - Listing of Funds
https://www.cima.ky/upimages/commonfiles/1499783502ListMutualFunds.pdf
CEIC - China Imports
https://www.ceicdata.com/en/indicator/china/total-imports
CEIC - Exports
https://www.ceicdata.com/en/indicator/china/total-exports
S&P 500 Total Return
https://ycharts.com/indicators/sp_500_total_return_annual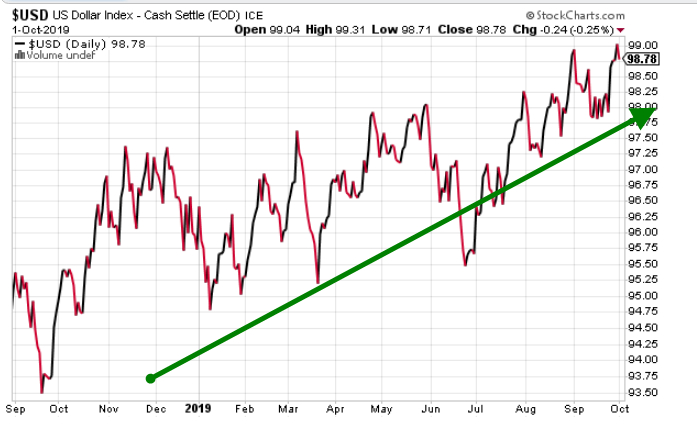 Tuesday, September 24, 2019
"No Title of Nobility shall be granted by the United States: And no Person holding any Office of Profit or Trust under them, shall, without the Consent of the Congress, accept of any present, Emolument, Office, or Title, of any kind whatever, from any King, Prince, or foreign State."
ARTICLE I, SECTION 9, CLAUSE 8
Of course, there is loads of case law describing exactly what an emolument is, as well as the clarification of the spirit of the framers intent. Here are a few excellent/descriptive examples of emoluments:
1
.) Payments to a Nuclear Regulatory Commission employee by an American consulting firm for work regarding the construction of a Mexican government power plant
(Application of the Emoluments Clause of the Constitution and the Foreign Gifts and Decorations Act, 6 Op. O.L.C. 156, 156 (1982))
2.) Payments to a part-time Nuclear Regulatory Commission staff consultant by an American corporation for work on a contract with the government of Taiwan. (
Application of Emoluments Clause to Part-Time Consultant for the Nuclear Regulatory Commission, 10 Op. O.L.C. at 96.)
3.) Payments to members of the Administrative Conference of the United States, by those members' law firms, of "a share of partnership earnings", where some portion of that share is derived from the partnership's representation of a foreign government. (
Applicability of the Emoluments Clause to Non-Government Members of ACUS, 17 Op. O.L.C. 114, 120 (1993))
4.) A retired U.S. Air Force member's employment "as a teacher in a local borough high school" in the United Kingdom.
Comptroller General, Matter of: Major James D. Dunn & Senior Master Sergeant Marcus A. Jenkins, B-251084 (Oct. 12, 1993).
5.) A Navy surgeon's receipt of a "token of thankfulness" from a foreign government for his services on behalf of one of its citizens.
A Resolution allowing Doctor E.K. Kane, and the Officers associated with him in their late Expedition to the Artic seas, in search of Sir John Franklin, to accept such Token of Acknowledgment from the Government of Great Britain as it may please to present, Aug. 30, 1856, 11 Stat. 152.
In my way of thinking, the above case examples (there are many more) establish four very important principles:
1.) Officers of the US Government have long been held accountable and the rules are well established to prevent them from accepting benefits from a foreign entity without congressional approval.
2.) The amount of the benefit is irrelevant. Appearance of impropriety is just as important when determining the existence of an emolument as the actual mechanics of the scheme.
3.) The Officers held accountable are usually those (un-elected) "lesser Officers" who may or may not think they did anything wrong. In fact, I'm hard pressed to come up with a single emoluments case brought against an elected officer of the government...ever. (I am of course excluding the current Cases v. the President as the disposition of same is currently in doubt). Perhaps some of you legal historians can come up with a few, but I am currently unable to locate a successful precedent where a sitting elected official was sanctioned for an "emolument". If any of you know of one I'd like to read the case(s).
4.) Since most citizen actions "lack standing" for one reason or another, emoluments issues and enforcement are usually policed internally, i.e.) By the US Government Agency involved against the Government Officer recipient in the alleged emolument. For White house officials, Congressmen/Women and Senators they are theoretically (and selectively) self policing.
That said, we live in a complex world. Given the above, contemporary emolument enforcement issues/limitations have more to do with structure, investigative methods and the ability to detect them, than with the framers Constitutional intent. i.e.) If it looks like a duck and quacks like a duck, it might just be a duck....but you still have to prove it. In duck hunters parlance, the problem is that it's getting really difficult and time consuming to set our gun sites on these mother-fluttering, flocks of ducks. They are everywhere, but they either seem to be out of range, or we don't have enough ammunition.
For example, would the following be "Emoluments"?
1.) A foreign SOE (State Owned Enterprise) enters into a partnership with an American Citizen to start a Cayman Islands LLC. The LLC makes a loan to another American Citizen and the Citizen uses the money to fund a PAC which specifically provides soft money advertising support and campaign funding to specific candidates who agree to support the PAC's agenda.
2.) A foreign government directs its citizens to "invest" in specific residential real estate projects either by purchasing individual units or entering into leases at above market rates, where the US Government Officer or an immediate family member has a specific interest in an LLC, which owns part of the real estate project(s).
3.) A foreign government/agency communicates, in advance of a public announcement, with a US Government Officer, insider information on a particular US Listed Foreign Stock (Alibaba for example) in which the Government Officer might take a financial position or two, directly benefiting that Officer. There's a reason our lawmakers arrive in Washington in debt and leave with wheelbarrows full of treasure.
Most people who understand what's happening would say "Of course these are Emoluments!" which could influence the decision making and legislation biases of the targeted government officer. But when you really begin to peel the onion back, how in the world do you investigate this, or even find out about it? Any investigator can ask lots of questions, but without significant leg work, whistle-blowers and/or resource/time spent, it's likely schemes like this will go undetected for a long time, or perhaps forever. The paperwork and trail all seems to match up. Everything looks legitimate. "Nothing to see here". When every little piggy in the good-old-boy network is racing to the trough, it would be the rare piggy indeed who'd refuse the never ending buckets of slop, and spoil the party for the entire pigsty.
So now let's talk about "Sleepy Joe"....
In 2008, America's Vice President-to-be along with several other close friends, investors and family members established a number of ShellCos in New York and Delaware, but let's focus on a specific Delaware Investment Company (
Biden Real Estate Holding Company, LLC
) ostensibly formed in order to invest at least a portion of Joe's massive $169,500 per year windfall Vice Presidential Salary, and I'm sure, along with "other funds" that may somehow end up in his accounts from time to time.
(search "Biden" for related ShellCos)
https://icis.corp.delaware.gov/Ecorp/EntitySearch/NameSearch.aspx
Shortly after formation, the
Biden Real Estate Holdings LLC
entered into a private partnership (or some sort of contractual agreement) with a series of New York LLC's (
Hudson Waterfront Company A, B, C, etc.
). T
he Hudson Waterfront Company LLC's, et al
primary purpose was to re-market and redevelop a struggling, underfunded NYC real estate project known as the "Riverside Boulevard Project".
The Riverside Boulevard Project consists of three residential/condo towers:
200 Riverside Boulevard (46 stories, 360 Units, Built in 1997)
220 Riverside Boulevard (48 stories, 412 Units, Built in 2000)
240 Riverside Boulevard (31 stories, 166 Units, Built in 2004)
At the time of
Biden Real Estate Holding Company LLC's
investment, (after more than eleven years for 200 Riverside, eight years for 220 Riverside and nearly four years for 240 Riverside) the property was approximately half sold, most units were still either held for rent with (likely) significant unfinished/vacancy. The plan for the development was to refinance the property, make significant capital improvements, cut some operating costs, re-position the brand and sell off remaining units at a higher price point.
Of course, these investments were made just prior to, and during the financial crisis and you would have thought that a troubled project like this might have been one of the first to succumb to the downturn and end up as yet another failed dream on the scrapheap of insolvency, like so many other ill conceived and ill timed projects did at the time. But fast forward to 2019 and behold, the project not only survived but is apparently flourishing.
The skill and perseverance of the management team, as well as the business model must have been state of the art, as other projects faced horrific headwinds and many failed at the time. Somehow, the Riverside Boulevard project survived and in fact seems to be thriving today. I'd also venture an educated guess that the financial help, connections and business acumen of the Vice President of the United States probably didn't hinder the inevitable, eventual success of this project either.
Riverside Boulevard Today.....
Interestingly enough, I have good friends that live in this complex and have visited a number of times. Although much of the complex still seems to be unoccupied (no lights on at night) the buildings seem to be well maintained and the service is excellent. The apartments are spacious, the views of the river and the city are gorgeous and, per our good friends, the rent is very competitive and a great value compared to other similar properties.
One phenomenon that piqued my curiosity is that often, when I'm in the lobby or the elevator of their building, it often seems as though I'm the only person who uses "English as a first language". Of course, there is nothing inherently wrong with this, I just found it peculiar.
As you, my readers know, when I see something peculiar, I tend to try to understand it and determine what the peculiarity really means, along with the genesis of said peculiarity.
Fortunately, I also have good friends who have access to all sorts of data, who are extremely generous with their time and expertise. In this case, my friend Alex Bresler
@ABresler
has provided transaction/ownership data from ACRIS, the NYC Real Estate database to try to analyze exactly what might be going on here. Here's the raw data dump. Feel free to import it into an Excel Spreadsheet (CSV) if you want to take a look at it.
https://gist.githubusercontent.com/abresler/891e4b646a8f800233bca8a47f1637cf/raw/1e2131a96366e8441a6a8011389cc2a9448ef957/riverside_transfers.csv
Let's look at a few slices/dices of that data. Between 1997 and today, there were 1,146 ownership-change (transfer) transactions recorded in ACRIS. We'll start with a breakdown of the building ownership as of 1/1/2009, shortly before the Great Financial Crisis really kicked into high gear, and just prior to "Sleepy Joe's" investment company, the
Biden Real Estate Holding Company LLC,
began making investments in the
Hudson Waterfront Companies.
Note that ACRIS provides limited buyer profile information in the transaction data. For the purpose of our analysis we will focus primarily on "Entity" and "Asian" (mostly Chinese surnames) ownership classifications as described by the City of New York.
Here are a couple of things that jump out at us:
1.) After 11 years for 200 Riverside, 8 years for 220 Riverside and 4 years for 240 Riverside, total sponsor sales were 511 Units or 54% of the total 938 Units available for sale.
2.) Asian ownership was 121 units (13%) and Entity (ShellCo & LLC) ownership was 52 units (6%), representing 19% of project ownership.
3.) At the time, 714,688 sq/ft. at $1,187 per sq/ft, was sold. If we extrapolate at 54% sold, we can estimate the total project value at $1.570 Billion.
4.) 240 Riverside, in just four years is 94% sold out, while 200 and 240 are still roughly half sold with 417 Units remaining in
Hudson Waterfront Companies
inventory.
5.) We don't know what the status of the unsold 427 Units (46%) really is. Are they finished/rented? If so, who's renting them? Are they unfinished/held for resale? Why are they unsold? Is this part of the plan or are there economic limitations preventing the project from selling out?
Now let's fast forward 11 years to August 1st 2019. The current status of the project has changed dramatically for the better and is described below:
Here are the bullet points.
Based on current ownership unit purchase prices the project has a value of roughly $1.905 Billion.
The project is 72% owned (675 units), with the remaining 263 units under management by the Hudson Waterfront Companies either to be rented or remain vacant. They remain unsold, for whatever reason.
240 Riverside (the newest building) is "sold out". 100% owned by residents/investors, of which 39% are "Asian" and "Entity" owners.
72% of the entire project is "owned". Asian buyers own 17% and entities (ShellCos & LLCs) own 11%.
28% of the units remain unsold/managed/rented, roughly the same percentage as is owned by Asian and Entity owners.
African Americans apparently don't want to live there, for whatever reason.
Other Things We Know and Questions We Might Have....
1.) What might have caused the ownership mix to change so dramatically? Asian and ShellCo ownership was at 173 Units (19%) on 1/1/2009 and it increased to 265 units (29%) as of 8/1/2019.
2.) Of the additional 164 units sold in the period from when "Sleepy Joe" got involved to just recently, a net of 92 of them (56%) were sold/transferred to Asian buyers and ShellCos/LLCs. Why? What is driving this phenomenon?
3.) We know, again with relative certainty, that the continued influx of Chinese Money (by definition directed and controlled by the Chinese Communist Party.....i.e.) Chinese people aren't allowed to invest millions of dollars overseas without explicit party sponsorship) not only dramatically contributed to the projects success, but I might also proffer that the absence of these buyers might have actually guaranteed the project's failure.
4.) We also know (with relative certainty) that during the time in question, the only bank providing the financing in this project, for whatever reason, was Deutsche Bank.
5.) Those of you who have followed my work know that I've long been critical of the "relationships" that Deutsche Bank has been cultivating over time, more precisely, my concerns over their
deals
with Russia's often/continually
sanctioned
VT Bank (money laundering, terrorism support and a plethora of failing to "know your customer" financial crimes) as well as their indirect involvement with China's SAFE (State Administration of Foreign Exchange) and SOE's as discussed in my prior post "
How an ineffective Bill becomes an Ineffective Law...
" Today, HNA, China's fake SRE (State Run Enterprise) still owns 4% of Deutsche Bank, down from the nearly 10% they had acquired in 2017, making HNA (and by extension, the Chinese Communist Party) Deutsche Bank's largest shareholder at the time. Again, presumably, the CPC has had significant influence over Deutsche Bank's management decisions and capital deployment for quite sometime. Further, just thinking out loud here, but you'd think that having "Sleepy Joe", the Vice President of the United States of America as a grateful benefactor of your largess regarding the struggling
Riverside Boulevard Project
might just have some real financial and political value to the CPC at some point down the road.
6.) It would also not be a stretch to believe that the odd concentration of these investments (several hundred million dollars in this project) made by the agents of and at the behest and direction Chinese Communist Party were done solely to generate and influence an "Emolumental" relationship with the Vice President of the United States and the White House at the time. We can still see evidence of this in "Sleepy Joe's" pro-China, "they are not a threat" to us rhetoric, on the campaign trail today.
I might even argue that a Biden campaign would be at a minimum "cheered on" by the Chinese Communist Party, as well as, even more likely, the recipient of some additional passive or even active "emolumental" Party support. When you really think about it, and listen to his message, why the hell else would he be running?
More Chinese Communist Party Pressure on "Sleepy Joe"....
I'm not going to bother rehashing the odd, global, Ukrainian/Russian and Chinese related dalliances of Hunter Biden here,
Adam Entous
did an admirable, more than capable job of that a few months ago, but could you imagine being the Vice President of the United States, not only having to work to keep the Chinese Communist Party in your corner on your NYC Real Estate Investments, but having to simultaneously deal with, deflect and field media and investigator questions about the out of control behavior and chronic bad/illegal/fraudster decision making process of your son, who you love, involved in the following on a daily/public basis:
1.) Hunter Biden's acceptance of a 2.8 Carat diamond from a Chinese energy tycoon, Ye Jianming.

Mr. Jianming had hoped that Hunter might
"use his contacts" to help identify investment opportunities for Ye's company, CEFC China Energy, in liquefied-natural-gas projects in the United States.
More likely, these gifts were intended to pressure him to coerce his Vice President Dad to "get with the program".
2.) Hunter's efforts to openly, bravely beat a drug/alcohol addiction as he makes his way through his life.
3.) Hunter and Jimmy Biden's ill-fated, fiasco-like dealings with Paridigm Partners, a failed hedge fund, putting them deeply in debt due to investment losses and legal fees.
4.) Hunter's involvement in Seneca Global Advisors and Rosemont Seneca Partners, pitching small and mid-sized business on "opening up global markets", or perhaps a thinly veiled vehicle to make a few bucks off of presumed White House access.
5.) Hunter's relationship with Jonathan Li and Bohai Capital, again with a goal of investing Chinese funds in US Businesses, eventually creating BHR Partners where Hunter became an unpaid member of BHR's board. Hunter apparently did not take an ownership interest in BHR Partners until after his father left the White House, in an apparent attempt to bolster the appearance that there are "no emoluments to see here".
6.) Hunter's Relationship, through Rosemont Realty with Mykola Zlochevsky and Burisma, one of Ukraine's largest natural-gas producers. Hunter was made a Burisma board member in 2014, while the Obama Administration was ostensibly cracking down on Russian and Ukranian Corruption, including investigations of Bursima. The idea that the Biden's son could ethically maintain a board seat while simultaneously directing contracts and funding, on an organization under investigation for corruption by his own White House is preposterous at best.
7.) The eventual collapse of the CEFC "Monkey Island deal" following Mr. Ye's arrest.
8.)

In 2017, Mr. Ye (from the "diamond" note #1 and the "monkey island" note #7) asked Hunter to represent one of his associates, Patrick Ho. Hunter, who also works as a private lawyer, agreed to represent Ho, and tried to determine whether Ho was in legal jeopardy in the U.S. Apparently, Mr. Ho was indeed in jeopardy since, just after Ye and Hunter agreed on the Monkey Island deal, U.S. authorities arrested Ho. Mr. Ho was later sentenced to three years in prison for his role in a multiyear, multimillion-dollar scheme to bribe top government officials in Chad and Uganda in exchange for business advantages for CEFC.
Based on the above, it's clear that Hunter Biden was either one of the worst judges of character and veracity in history, or had no problem with using his father's position to make a few bucks. I would also imagine that Joe had a hard time, and I'd say, failed miserably, at keeping Hunter on the straight and narrow. Emoluments all around!
Rudy Giuliani did a great job the other night on CNN taking nearly a half an hour of air time to cogently describe the issues above to Chris Cuomo.....here's the abbreviated, bullet point version:
On further review, the only thing we really learned from this painful exchange is that Rudy should no longer be allowed to play with scissors in the West Wing or run with sharp objects on the White House lawn.
Putting It All Together....
What's been going on in our country, for decades, is about as removed from the intent and aspirations of the framers of our Constitution as could possibly be imagined. A functioning Democracy, the shunning of "emoluments" in favor of a government of/for/by the people, as envisioned by America's forefathers/mothers has given way to political alliances, special interests and "money talks" legislation and enforcement, heretofore thought to be unimaginable by any reasonable, unbiased observer of political history. The corruption and apparently legalized pay to play has progressed from an envelope or two of "Joe Kennedy Cash" to buy a few votes in a rural swing state/district to complex networks of international, communist funded SOEs, SREs and syndicates financing triads, "think tanks", PACs, media campaigns and untraceable shell company investment into virtually every financial and political arena, where the sole purpose of the endeavor is to advance some form of systemic elitism and/or authoritarian domination with the inescapable, inevitable consequence being the destruction of democracy as we know it.
It seems that today, no party, business, financier, politician, legislator, executive or thinker is immune to this rapidly metastasizing disease. It's always been hard to turn down a free lunch, now we've come to the point where we don't even care or ask who's picking up the tab. It's become perfectly acceptable to take a seat at the banquet table and finish the meal with no questions asked. Again, this isn't a Republican, Democrat, business or labor problem...."taking the money" has become endemic in our society. We've accepted, as a people, and by design, that for certain classes of untouchable leadership, regardless of political affiliation or party, a "free lunch" is acceptable. Apparently, since everyone is doing it, it's no longer a "party" problem or an occasional isolated instance, it's gone systemic and has become a uniquely American problem. Politicians can't address corruption and "emoluments" by their brethren because it's likely they themselves are the beneficiaries of same......and our very Democracy is threatened because of it.
CORRECTION:
There are many, many reasons why Joe Biden should not hold public office, much less the Presidency of the United States of America, but the "Riverside Boulevard Project" is not one of them. For those of you who know anything about New York City Real Estate you've probably already deduced that "Sleepy Joe" has nothing to do with the Riverside Boulevard Project. 200/220/240 Riverside are actually all Trump Properties. The "Asian" and "LLC" ownership and financing data is all accurate, but it's a Trump emolument, not a Biden emolument. The point of this exercise is, that, this pay-to-play and influence peddling cancer is running amok in our government. Party affiliation, polls
and popularity doesn't/shouldn't matter wh
en determining whether there are emoluments and Foreign Corrupt Practices violations that put the very foundation of democracy at risk.
Moreover, as I've mentioned before in a
prior post
, the pattern repeats with one of my other favorite, nearly failed real estate projects (Trump Tower Chicago, 401 N Wacker Dr.) where
t
here are no units listed above the 49th floor on the Cook County Assessors Website, even thought there are
254 Units shown on the floor plan
. I've also noticed that the lobby and elevators, like the Trump Riverside Buildings, have a disturbingly, almost unnaturally-high percentage of occupants with a "First language other than English" i.e.) Chinese and Russian visitors and occupants. Perhaps some enterprising journalist or investigator who knows the ropes on the inner workings of the Cook County Assessors office might be able to get the bottom of it.
Finally, these deal structures are, of course, built and are sufficiently complex to make the discovery of a conspiracy and the resulting "emoluments" nearly impossible to detect and prove. But there is no question in my mind, that all of the above, regardless of party politics or affiliation, absolutely flunks the smell test.
So we've determined above that the Chinese Communist Party likely exercises significant leverage over the Trump White House through financial incentives connected to his finances, banking relationships and Real Estate Projects. If you really, honestly examine this "Reality TV" Presidency, you'll quickly conclude that there have been no policies implemented that have either materially
benefited American interests and/or
adversely impacted China.
The ineffective tariffs, never-ending trade talks, benign financial/monetary policy, destruction of agreements and relationship infrastructure like NAFTA and the TPP, cozying up to Putin and Autocrats while abandoning and destroying relationships with long time NATO allies, Hong Kong indifference, increased Chinese IMF and MCI inclusion, the unregulated/unabated/unrelenting "Dollar Grab" with a fake closed RMB, continued SEC tolerance of absurd, unregulatable VIE listings on US Exchanges (Currently about US$2.3 Trillion) ,etc. etc. are all either "Wag the Dog" distractions or well designed, camouflaged efforts to directly benefit and support Chinese global interests and isolate America. If I were to design a plan to destroy a democracy this would be the prototype.
Biden's political and strategic weakness, of course, is his above described "known or should have known" relationship with, and fatherly instincts to protect, his less than cerebral, prodigal son who couldn't make a good decision if it came gift wrapped and left on his front porch. Moreover, Joe's misplaced "hold over" trust and affinity from the good old days, for China's unlikely, thirty year Trojan Horse transition to globalism with "Chinese Characteristics" is only exceeded in deficiency by his obvious inability to recognize what's truly unfolding around him. As I've said, Joe, you are a great guy and a wonderful, caring father, but you should not be the next President of the United States, even though the Chinese Communist Party would likely be fine with the presumed continuation of your Obama era pro-China administration and policy.
Worst case, if I am indeed correct, it would seem that the Chinese Communist Party actually owns (or at least has significant influence over) the two leading horses, Trump and Biden, in what's shaping up to be a two horse race for the Presidency. The CPC has positioned itself so that they can't possibly lose.
Personally, I believe that our founding fathers might have preferred that the bar for our elected officials today should be far higher than:
"We couldn't actually prove he/she is a criminal, and/or we don't want to upset our dumb-ass base, which has been manipulated by foreign actors with our permission and at our request, but he/she is still our guy/gal....so anything he/she does is OK"
America deserves better than that.
Other Fun Reading...
Deutsche Bank - Loan to vt bank
https://www.wsj.com/articles/deutsche-bank-in-late-2016-raced-to-shed-loan-it-made-to-russian-bank-vtb-11549147289
https://www.heritage.org/constitution/#!/articles/1/essays/68/emoluments-clause
VT BANK - us treasury sanctions
https://www.treasury.gov/press-center/press-releases/pages/jl2590.aspx
Appeals Court Dismisses Emoluments Suit due to standing
https://www.washingtonpost.com/local/legal-issues/appeals-court-dismisses-
emoluments-lawsuit-involving-president-trumps-dc-hotel/2019/07/10/4a4b6190-886e-11e9-98c1-e945ae5db8fb_story.html?noredirect=on&utm_term=.1a7df7d746dd
vt bank - eu sanctions
https://www.reuters.com/article/us-russia-eu-ukraine-sanctions/eu-court-upholds-eu-sanctions-vs-russian-banks-companies-over-ukraine-crisis-idUSKCN1LT185
Democrat's emolument's Case
https://www.washingtonpost.com/context/federal-court-opinion-on-trump-emoluments-case-brought-by-democrats/bf8ea41e-6cb7-4425-85ba-657f4fc11e60/?
utm_term=.1867b52af2b6
hna acquires deutsche bank stake and majority stake in scaramucci's skybridge capital
http://www.chinadaily.com.cn/business/2017-02/21/content_28278046.htm
Initial Emoluments Complaint - Blumenthol vs Trump